First, I'd like to apologize for such a late review of the PTCL 3G Evo Tab. Last few days went through two major mishaps for me: a hard disk crash which lost about 800GB of my data and I'm suffering from Dengue fever (seems like now I'm in the recovering stage, but still, fever goes on) which is spreading a lot in Lahore these days.
Coming back to the topic, here is the long-promised review. I spent a pretty long time with the PTCL Evo Tab. Took it to Murree, performed 3G speed tests at various places and compared it with the PTCL Evo WiFi Cloud, made phone calls with the tablet and of course, tried many apps on it.
Let's begin with the review now.
PTCL 3G Evo Tab Review
PTCL announced their first Android tablet on August 14, an entry-level tablet, but perfect for browsing the web and checking your emails on the go. PTCL 3G Evo Tab is like a mobile with a bigger screen and provides you the same powerful functionality of Android as other Android smartphones.
Just to make it clear, I'm not going to compare the PTCL 3G Evo Tab with any other high-end Android tablets available in the market right now, Samsung Galaxy Tab, Motorola XOOM, Galaxy Tab 10.1 etc.
PTCL Evo Tab is a hybrid EVDO/UMTS tablet with a 7-inch screen, multitouch display, 800 MHz processor, 512MB RAM, 5 megapixels camera and is powered with Android 2.2 (Froyo). Let's take a look at the specifications in a bit more detail.
PTCL 3G Evo Tab: Specifications
Display: 7.0-inch TFT LCD display (800 x 480 pixels)
Processor/EVDO: 800MHz Qualcomm MSM7627T (Turbo) processor, 3G EVDO-enabled Tablet, supports all GSM and CDMA SIMs
Camera: 5 megapixels camera with autofocus, front camera for video calls
Video: Video recording at standard resolution
Memory: 512MB RAM, 512MB internal storage, supports microSD card upto 32GB
Connectivity: Bluetooth 2.1, WiFi, microUSB, 2 SIM slots
Other: A-GPS, 3.5 mm jack, accelerometer, Quick Office, PTCL News Bits app
Battery: 7 hours usage, 72 hours standby (with 3G) and 140 hours standby (without 3G).
OS: Android 2.2.1 Froyo
And now, let's continue with the rest of the review in detail.
PTCL 3G Evo Tab: Design
PTCL Evo Tab is flat on the front and back. On the front, just above the large 7-inch display, you see a front-facing camera for video calls on the top-right corner and the Evo Tab logo in the middle. And below the screen, you see the three standard capacitive buttons: Back, Menu and Home keys.
On the back side of the Evo Tab, there is a 5.0 megapixels camera along with PTCL, IVIO and Android brandings. Not to forget, there is also a card-hook-type something at the back where you can hook a card and make your tablet stand without the need of a dock or a separate stand. Neat! Perfect for watching videos on YouTube.
On the sides, you can find the power button, volume controls, speakers and tiny reset button (for just in case, you ever need it) while on the left side, there is the built-in mic for making voice calls or to record audio.
Bottom of the PTCL Evo Tab has 2 SIM slots, a microSD card slot that supports up to 32GB of memory card, a 3.5mm audio/headset jack and a microUSB slot for charging the tablet or PC connectivity.
We did an unboxing video of the PTCL Evo Tab a few days back. Do check it out below.
PTCL 3G Evo Tab: Display
The 7.0-inch TFT capacitive display screen on the PTCL Evo Tab is certainly not the best we have seen, but justifies to the price PTCL is asking for this Android tablet. The resolution of the display screen is 800 x 480 pixels, which I feel is a bit low for the device. It should have been around 1024 x 600 pixels, but again, we never had any issues with the display apart from some apps that do not enlarge on larger screens i.e SpeedTest.net Android app.
Viewing angles of the screen were much better than most of the other low-end Android tablets. And when in direct sunlight, leave the brightness sensor to automatic and it will adjust the screen brightness according to the outdoor lights. This was another feature that many Android phones (my experience with Samsung Galaxy S) have issues with, but PTCL Evo Tab went great with that.
PTCL 3G Evo Tab: Processor / Gaming
PTCL Evo Tab is powered with a 800MHz Qualcomm MSM7627T (Turbo) processor, which is almost equivalent to the processing capabilities of the Google Nexus One. This processor includes, 800MHz of applications processing, 400MHz of communication/modem processing, 320MHz DSP for multimedia and Adreno 200 GPU for graphics. We went a bit too technical, eh?
The tablet might lag at a few graphics-intensive apps, but overall speed has been pretty fair. The unit we got with the initial software running on it was pretty slow and apps kept crashing due to low internal memory – but after the latest Android software update released by PTCL, the tablet is quite responsive now and significant performance fixes have been made. In short, PTCL made us happy!
PTCL has a very extensive step-by-step tutorial on how to update your PTCL Evo Tan, but if you still run into any issues, ping me up and I'll be glad to help anyone with the update.
PTCL Evo Tab is not built for high-end gaming, but you can still play some optimized games on the tablet like Angry Birds, Doodle Jump etc. They work just perfect. Do watch the video above!
PTCL 3G Evo Tab: Camera
A slight printing glitch shows on the box that the PTCL Evo Tab has a 3.2 megapixels camera, but it actually is 5 megapixels. Camera quality is good – in fact much better than many existing Android phones.
For those who have played with the PTCL E3G Evo Tab, don't judge the camera quality by just taking a look at the photos on the Tab itself. You get the full quality of the photos on a PC. I have attached a couple of sample photos taken from Evo Tab's camera below, and no, that is NOT me in the second photo! 😉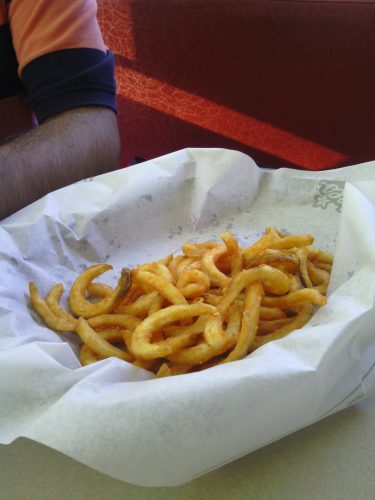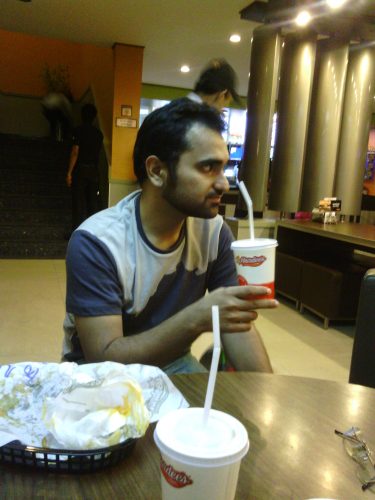 Evo Tab also has a VGA front-camera for self-photos and of course, for making video-calls using Fring, Tango or any other app. There is an extra setting added by PTCL to configure your default camera (front or rear) to counter incompatibility of apps.
Here is a sample video shot using the rear camera of the PTCL Evo Tab:
Remember, the Camera app won't work without a SD card.
PTCL 3G Evo Tab: Body/Build Quality
This is where I was very much impressed. Until I didn't have the tablet in my hands, I thought it to be of a plastic body, but the first time I held it in my hands, it felt no less than a HTC product with a solid feel and hard build quality. PTCL Evo Tab seems to have a Teflon finish.
PTCL Evo Tab weighs 429g and is 12mm thin. Might be a bit heavy for some users, but from what I have seen, people like heavy mobile products.
PTCL 3G Evo Tab: 3G Evo Connectivity
This is one of the most important features of the PTCL 3G Evo Tab – inbuilt connectivity for PTCL's 3G EVO. Now you can surf the web, watch YouTube videos, check emails etc. on the go without having to depend on WiFi or GPRS/EDGE connection.
You can switch between GPRS/EDGE and 3G with just a reboot of the tablet. Evo Tab gives you the option for 2 SIM slots and supports all GSM and CDMA SIM cards. You can have your both SIMs inserted, but use one at a time. This is also available in the Settings.
I recently had a trip to Murree, and had the Evo Tab with me. During the trip, I noticed that even if the 3G signals die out, you will still be connected to PTCL's standard dial-up speed – so in short, you will not get disconnected. And not to forget, the personal hotspot feature. You can even host a hotspot to connect other devices with the 3G Evo connection or use USB tethering to directly connect your PC or laptop.
PTCL 3G Evo Tab: Battery
Battery on the Evo Tab is "just okay". Not too awesome, but still does the job. It gives 7 hours of normal usage time with some browsing, Twitter, Facebook and YouTube. Standby time is around 72 hours with 3G and 140 hours standby time without 3G and everything disabled.
Conclusion
If you need a tablet for just browsing or a bit of YouTube surfing, then this can be the perfect tablet for you. Considering the price, you don't get a full-featured Android tablet at this price. For one year of subscription with Evo Tab that costs Rs. 31,999 – you will just pay Rs. 8,000 for the tablet and the rest goes for the standard Internet rate @ Rs. 2,000 per month for 3G EVO.
PTCL 3G Evo Tab: Gallery