This review of Samsung Galaxy J7 Pro was originally published on Team Android.
The Galaxy J7 Pro from Samsung comes as a sequel to the successful Galaxy J7 Prime from last year for which you can read the review here: Samsung Galaxy J7 Prime Review. The J series places itself below the slightly expensive A series. As the A series lineup has couple of phones, the J series has a similar standing. We have with us the higher-end Galaxy J7 Pro which is a step above from the J5 Pro. Offering a 5.5 inch screen, it is on the larger side of smartphones. With this segment of smartphone offerings going ever so quickly, does the Galaxy J7 Pro prove itself to be the best choice? Let's see in the detailed breakdown right below.
Galaxy J7 Pro offers some amazing internals on paper. It comes with 3GB RAM and a 64 bit Exynos Octa Core processor. This combination should provide ample performance for day to tasks. Another feature that Samsung advertises is the metal uni-body exterior. How does the whole package stack up? Let's take a look.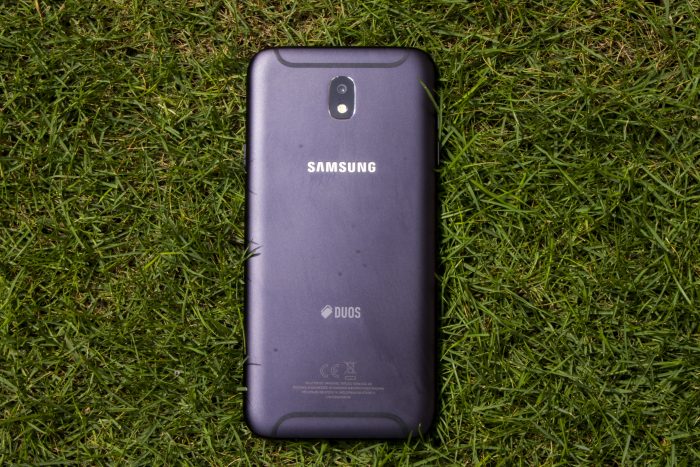 Here are all the specifications for the Galaxy J7 Pro from Samsung.
Samsung Galaxy J7 Pro
Technical Specifications
Dimensions
152.4 x 74.7 x 7.9 mm
Network
GSM / HSPA / LTE
Display
SuperAMOLED capacitive touchscreen, 1080×1920 pixels, 5.5 inches
Processor
Exynos 7870 Octa, Octa-Core 1.6GHz
Memory
16GB ROM with 3GB RAM
OS
Android 7.0 Nougat
Camera
Primary: 13MP, f/1.7
Secondary: 13MP, f/1.9, 1080p
Video
MPEG4, H.265(HEVC), H.264(AVC), H.263, VC-1, MP43, WMV7, WMV8, VP8, VP9
Audio
MP3, AAC LC/AAC+/eAAC+,AMR-NB, AMR-WB, WMA, FLAC, Vorbis, Opus
Additional features
Fingerprint (front-mounted), accelerometer, gyro, proximity, compass, Samsung Experience Version 8.1
Connectivity
Wi-Fi 802.11 a/b/g/n/ac Bluetooth 4.1, microUSB 2.0
Battery
3,600mAh
Galaxy J7 Pro: Design and Hardware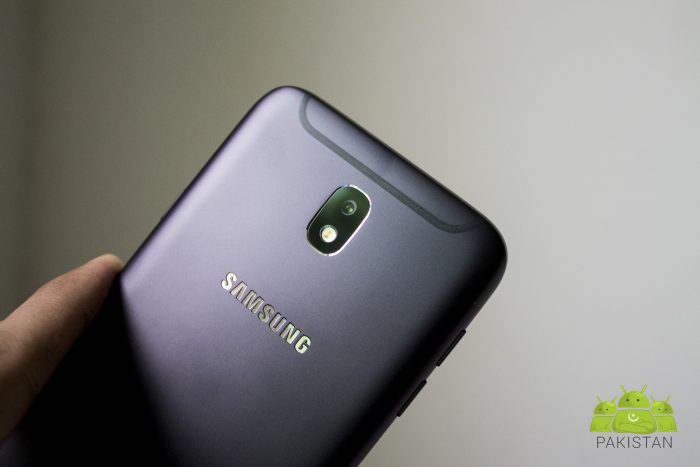 What appeals these days is an amazing design and that is undoubtedly the most difficult obstacle for manufacturers. With the Galaxy J7 Pro, we see a lot of Samsung design philosophy shine through. The phone adopts a curvier style rather than having sharp corners. It carries a full metal uni-body back which is exceptional for a phone at this range. Between metal and glass, Samsung has seemed to perfected both. The Galaxy J7 Pro carries this matte finish which helps in counteracting the slip associated with metal.
The Galaxy J7 Pro carries the traditional Samsung physical home button with touch buttons flanking it on each side. The home button acts as the fingerprint scanner and it is quite fast, up-to par with flagships. Also, keep in mind, Samsung has shifted towards shipping no back-lights on the touch buttons. I, personally, stand by their decision as I have always turned the front lights off because once you use the phone for few minutes, you don't need indications to find the right button. Apart from that, the front carries a gorgeous Super AMOLED 1080p display. The Super AMOLED technology has independently put Samsung on the map. Not only are these display panels quite beautiful but they serve a more practical purpose which is evident in Always On Display technology. The screen size is at 5.5 inches hence making the Pixel Per Inch count at a crisp 401.
You would also be noticing a front-facing flash. This addition, I believe, is more of a competitive pressure because many phones in this range have this functionality to counteract bad quality in low light conditions. I don't find it useful but as always, I don't hate it for being there either.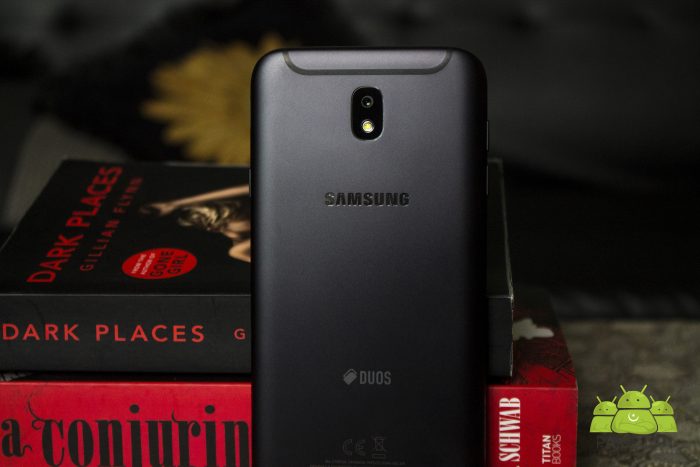 If we jump to the back, the new design from Samsung is truly refreshing. Its pretty hard to be unique with the bar shape but the Galaxy J7 Pro defies that. Samsung has designed the phone quite well. The camera cutout has been elongated to fit the flash right below it. More than that, are the cunningly designed antenna lines. Not so prominent in our black unit but once the lighting is correct, this characteristic shines through. In fact, this forms a very good design element and I wouldn't want them removed.
The left side of the smartphone is where the power button is placed but parallel to that is a slit. This is for the speaker. We have seen this in previous Samsung phones as well. And like before, this placement is in the neutral grounds. It isn't much functional but as unique design element, we can let it go through as it offers same audio quality as being placed on the bottom. The only scenario which you might find it useful would be when gaming or consuming content in landscape mode. The audio wont get muffled with your hand as much as it does when the speaker is on the bottom.
The right side is a little bit more populated. It carries the volume rockers, separate buttons and it also accommodates the slots for SIM and expand-ability. The Galaxy J7 Pro comes with dedicated SIM slot as standard and you wont be needing to sacrifice your micro-SD card slot. Our unit shipped with 16GB memory which is quite insufficient but gladly, you can immediately expand it via the dedicated microSD slot.
On the bottom end, you would find a microUSB connector and 3.5mm headphone jack, fortunately. I would like to point out Samsung has upgraded all the 2017 A Series smartphones to USB Type-C connections. This where the internals start to differ and it shows that why Samsung is selling this phone at a lower price point. The transfer speeds wont be effected as much. Top side, there is only the microphone cutout and nothing else.
Moving towards the electrical hardware, the Galaxy J7 Pro ships with Exynos 7870 Octa-Core 64-Bit processor coupled with 3GB RAM. This combination is ample enough to run the optimized Android Nougat variation and, once updated to Android O, it would perform even better. Obviously, you wont be shattering benchmarks with this phone but it will easily handle most of the tasks you throw at it without struggle. Web browsing, running social media apps and using messaging / call functionality is incredibly smooth. 1080p 5.5 inch Super AMOLED display is what seals the deal. It is definitely one of the best viewing experiences you can get at this range and features like Always on Display can't be had in other phones. Due to Always On Display, you wont see a notification light on the phone.
Galaxy J7 Pro: Camera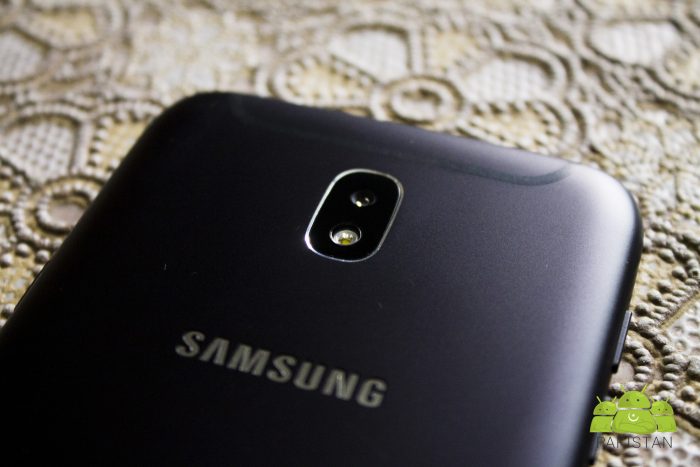 Here is a much concerning area for multiple budget smartphones. It seems as the gap between these phones and flagships is growing rather than decreasing in this department. The Galaxy J7 Pro camera, however, begs to differ. It offers quite sharp images with its 13MP sensor on the back with f/1.7 aperture. The video recording from this phone is limited to 1080p which is adequate as the display on the phone itself is a 1080p panel. 4K would have been a good addition nonetheless. We have attached some of the pictures we took from the phone. You can see it stands pretty fairly but a lot can be improved as 2 year old flagships from Samsung can beat the Galaxy J7 Pro easily. However, the camera app processes the photos quite good. As with all Samsung phones, the app saturates the picture a little bit too much and sharpens it to the same extent but the result is quite great.
Front module is a hefty 13MP as well but with a slightly less aperture at f/1.9. Contrary to the main module, the front facing camera has amazing capabilities whilst keeping it in comparison with competitors. Further, as with the main camera, the app processing helps quite a bit. You can definitely use it for video calls and taking amazing selfies.
Galaxy J7 Pro: Connectivity, Memory and Battery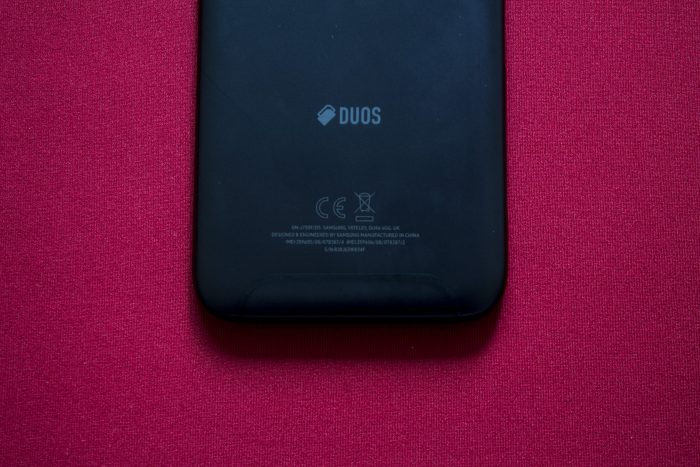 The markets where Galaxy J7 Pro is targeted at — Pakistan, India and surrounding regions — 4G LTE is catching up quite quickly hence the Galaxy J7 Pro comes with 4G LTE capability. Further, it comes with Dual SIM capability. Not the hybrid slot in which you sacrifice the second SIM slot for microSD card slot but it has dedicated ones for each.
Moving to the battery, with Samsung's Galaxy Note 7 mishap, the brand has seemed to slowed down on its extreme battery capacities in thin phones. The Galaxy J7 Pro comes equipped with a 3,600 mAh battery. I easily got a day's worth of use out of the device and some percentage left to spare for the next day. This is with heavy usage and bench-marking, average user results might vary but they will hopefully be better. However, speaking competitively, I have seen devices pack even 4000+ in a similar package but then again, Samsung isn't risking it after the Note 7 issue.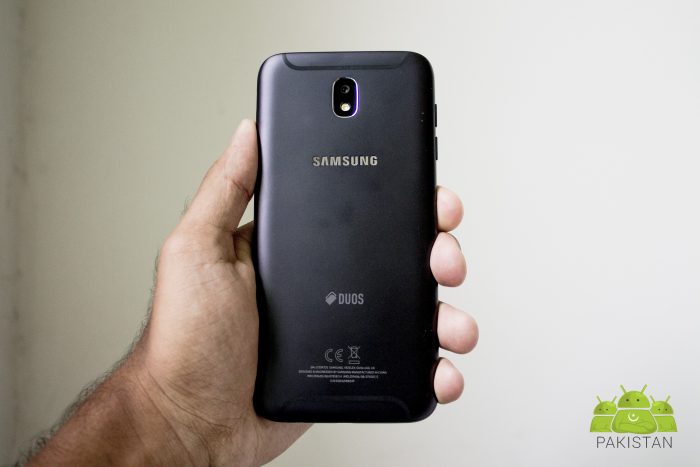 The storage is somewhat concerning. Even though, as mentioned, expand-ability is there but 16GB in 2017 is way too less especially seeing the trend towards video. Nonetheless, this is the only shortcoming with the internals worth writing about.
Galaxy J7 Pro: Software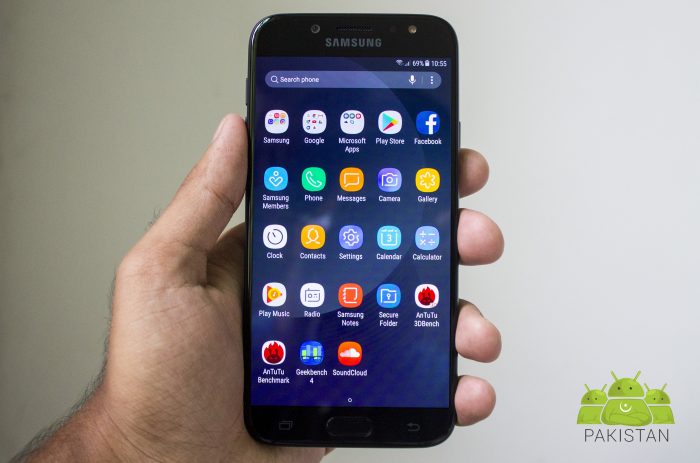 Here is another strong suit of the device, the software. Samsung is firmly set in providing one of the best software experiences in the Android space. Thanks to Samsung propietrary apps, the overall ecosystem is very unique and only few manage to even compete with it. The Galaxy J7 Pro comes with Samsung Experience 8.1 which is exactly the same as on the Samsung Galaxy S8. For users, this is amazing news. Not only are you getting the same software experience of a flagship but features are being carried over as well. Key highlights include multi-window, Always On Display, built-in Bluelight filter, latest icon scheme and same customization. This makes the Galaxy J7 Pro a bargain.
However, when you start to look closely, even though the UI is pretty much exactly the same, there are a few things missing. For example, in the Camera app's Pro Mode you can not set the focus to manual and a couple other advanced settings are missing. Similarly, you don't get the Edge functionality. Again, this is to be expected and some of these experiences aren't there because of the hardware which again is due to the price.
The bundled proprietary apps are quite good. Here are details on some of the key apps:
Default bundled Samsung Apps & Features:
File Manager is a simple but mandatory app available in the Galaxy A5 (2016). It functions to provide you access to all of your stored media and data. OTG connections also show up in this app.
Galaxy Apps lets you install proprietary Samsung apps which aren't listed or available on the Play Store like S Note.
Ultra-Power Saving mode if you are running on low battery and cannot charge your phone, you can access this mode. It cuts down on all of the different features while still letting you access the basic ones.
Private Mode works with the fingerprint scanner in locking different sorts of data and encrypting it. Once locked, no one will have access to it except when you authenticate with your fingerprint.
S Bike Mode For bike riders, this mode provides hands free access to your phone. Not only that, there are options to record trips, mileage and monitor traffic situations. You can also set custom notifications to be forwarded once you are in this mode.
Galaxy J7 Pro: Gallery