Jazz is introducing, for the first time in Pakistan, eSIM technology. Made popular by the likes of iPhone, Google Pixel and various other modern flagships, this new SIM standard allows you to connect to your desired mobile network without any physical SIM. Adopting this new tech, Jazz will be the first to provide eSIM support in Pakistan throughout.
As the SIM standard is being changed, this would not effect coverage neither would it require a gradual roll-out. Subscribers can simply switch over and use eSIM within their current phones. For now, Jazz eSIM is compatible with these phones: iPhone (XS / XS Max / XR) and Google Pixel 3 / XL.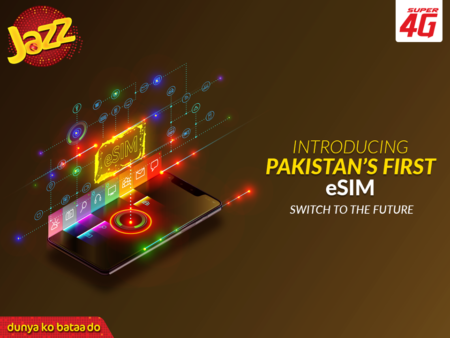 Islamabad – 29th May, 2019: Jazz, Pakistan's leading digital communications organization has partnered with Gemalto, an international digital security firm for the launch of the country's first ever eSIM (embedded SIM) subscription management platform. The eSIM solution will offer subscribers who own compatible handsets the freedom to integrate multiple SIM card numbers directly into their phones oriOTdevices, using the internet.
In an industry first move, Jazz shifts focus towards a more hyper-connected world by introducing eSIM management for users in Pakistan.

Jazz Pakistan
Jazz eSIM platform will also enable subscribers to switch between multiple subscriptions, download data plans, and remove old SIM profiles within the same device without having to physically switch their SIM cards. Jazz's eSIM technology also works on a number of eSIM-enabled devices like Laptops, Tablets, Wearables and iOT devices and shall also result in compatible handsets likes iPhone XS, XR and XS max working as dual SIM Phones.
"Jazz is, and always will be, committed to ensuring that our consumers realize the full benefits and the true potential of eSIM enabled devices," said Asif Aziz, Chief Commercial Officer at Jazz. "By partnering up with Gemalto, Jazz can provide our subscribers with easy real-time control which they can access anywhere and at any time. We pride ourselves as the pioneers of the digital revolution in Pakistan and as such we shall keep innovating our way to achieving our goals."
"We are excited to work with the country's leading mobile operator, Jazz, on this ground-breaking first launch of the Subscription Management platform. The implementation will drive forth seamless connectivity and an enhanced user experience to millions of users across the country, driving the digital transformation in Pakistan,"said Sherry Zameer, SVP Digital Identity and Security for CISMEA region at Thales (Gemalto). "We look forward to a successful and longstanding partnership with Jazz Pakistan, underpinning a commitment to innovation and the delivery of outstanding service."
The rapid adoption of eSIM technology across the Middle East is a major factor contributing to realizing a new era of hyper-connectivity. Devices are growing more complex, yet easily attainable at an exponential rate. According to the GSM Association (GSMA), mobile connectivity will contribute a massive 4.8% of the world's total GDP by the year 2023. This represents an economic value of roughly $4.8 trillion with 25.2 billion connections by 2025.
By partnering with Gemalto, Jazz can take advantage of the world's most popular eSIM management platform across mobile operators, operator alliances, car manufacturers and mobile virtual network operators (MVONs).
Subscribers can digitally activate the SIM via Wi-Fi or visit any Jazz Business Center to register for the eSIM on their current number. After the registration, they will receive a QR code on a voucher, which is to be scanned under the phone's settings. To promote this partnership, for a limited time, Jazz is offering eSIM activation free of charge.
Only the following phones currently support the eSIM – iPhone (XS / XS Max / XR) and Google Pixel 3 / XL.