This review of Nokia 3 was originally published on Team Android.
Nokia has re-entered the smartphone market with its 2017 Android lineup. We have the Nokia 3 with us and in this review, we will be discussing it in great detail. The X series was an experiment announced by Nokia a couple of years ago to test out Android smartphones. It lacked software coherence and also packed below average hardware. Now, with the Nokia 3, the brand is targeting Android users quite strongly. The Nokia 3 is the cheapest and also the smallest, in terms of screen size, smartphone in the lineup. In design department, it is quite stealth looking with some Lumia DNA. Read further to find our thoughts on the newly announced Nokia 3.
Starting off, the Nokia 3 is focused to compete with budget smartphones. It falls in the lower end of 16,000 to 18,000 PKR (160 to 180 USD) price bracket. In terms of exterior, Nokia has lived up to the standard of quality it once offered in the Lumia series. The machined aluminium frame forms a major part of providing a premium feel to the phone. The internals are adequate and just as expected in the price range. However, there is a key difference which might seal the deal for quite a few. Let's see what it is and how it is quite beneficial.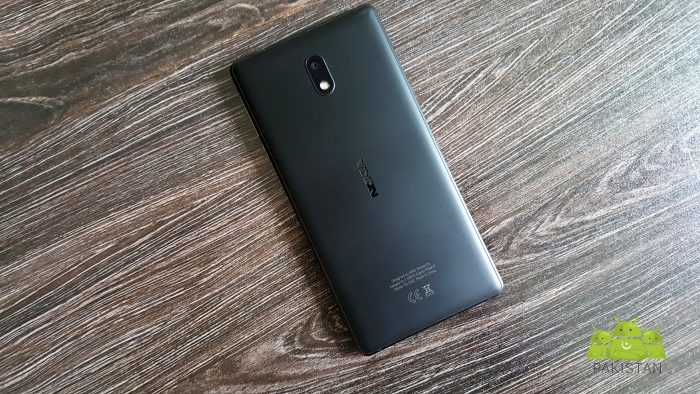 Here is the complete overview of Nokia 3's specifications:
Dimensions
143.4 x 71.4 x 8.5 mm
Network
GSM / HSPA / LTE
Display
IPS LCD capacitive touchscreen, 720×1280, 5.0 inches
Processor
Mediatek MT6737, Quad-core 1.4GHz
Memory
16GB ROM with 2GB RAM
OS
Android 7.0 Nougat
Camera
Primary: 8MP, f/2.0
Secondary: 8MP, f/2.0
Video
MPEG4, H.265(HEVC), H.264(AVC), H.263, VC-1, MP43, WMV7, WMV8, VP8, VP9
Audio
MP3, AAC LC/AAC+/eAAC+,AMR-NB, AMR-WB, WMA, FLAC, Vorbis, Opus
Additional features
Accelerometer, proximity, compass
Connectivity
Wi-Fi 802.11 b/g/n, Bluetooth 4.0, microUSB 2.0
Battery
2,630mAh
Nokia 3: Design and Hardware
Nokia is a brand that has created some of the most iconic cellphones, so certainly we don't expect anything less in the smartphone department. The Nokia 3 we had was the matte black variant. There are quite a few color options. The frame surrounding the smartphone is made up of aluminium. This material choice makes the phone feel premium and definitely make it feel worth much more than it actually is. The back is composed of plastic. Many brands have tested different textures with the back plastic but what the Nokia 3 has, is definitely one of the best. It feels like the sandstone finish OnePlus became famous for.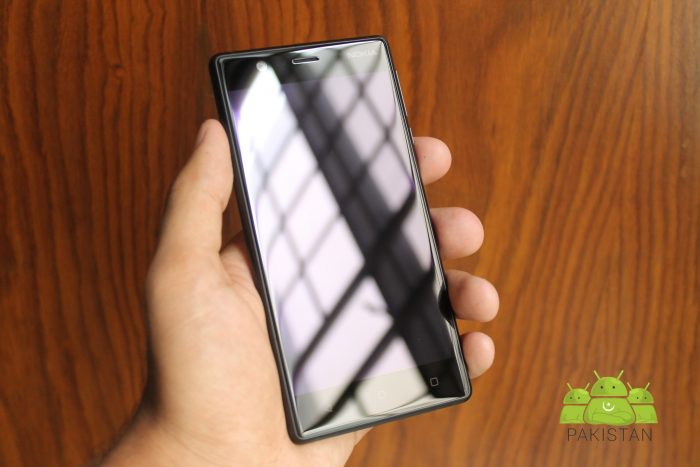 The front glass is quite well made. It curves on the edges to meet perfectly with the frame. I realized this quite a bit when navigating the side-swipe menus in Android. The glass is polarized as well. Beneath it, is a 5.0 inch IPS LCD display with a 720p resolution. Crisp enough with text and in the right display mode, it also has good colors. Also on the front are the capacitive buttons. Its good Nokia didn't go for on-screen buttons as it would have reduced the screen real estate. The buttons are in the orientation you find on Pixel or Nexus phones. These buttons are not back lit but after you use the phone for a while, it wont be as much of a problem as it may sound like.
On the right edge of the phone, are all the physical buttons. The only gripe I have here is the lack of texture or uniqueness given to either the volume control buttons or the power button. This discomfort, again, can be overcome by prolonged usage of the phone. Apart from that, this edge is empty. The left edge houses all the slots. As our variant was a dual SIM phone, there were dedicated slots for the SIMs and the microSD card.
On the bottom of the phone, you would find the microUSB connector and the single speaker. The speaker is good enough for audio output from apps but for music listening, headphones would greatly improve the experience. There is a small cutout for the microphone as well on the bottom of the phone. The top side houses a 3.5mm headphone jack, fortunately and the second microphone for best call experience.
The backside, as mentioned, is made of plastic and isn't removable. In this unique case, I feel like plastic was a great choice to keep cost low. Not only that, the texture, is just perfect. It doesn't give a cheap outlook and also serves great grip in the hand.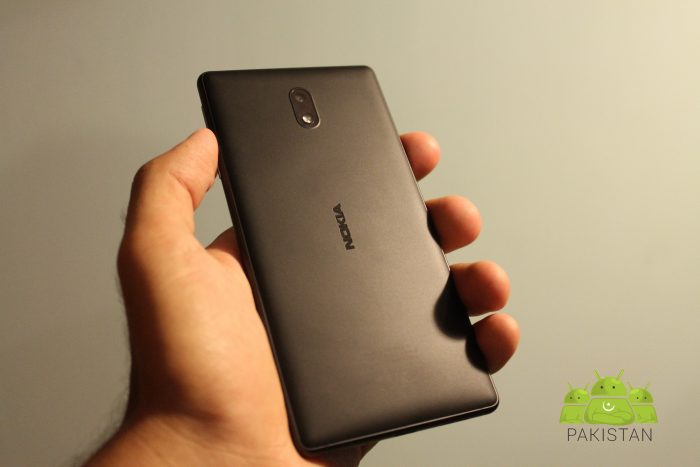 Internal hardware includes a Mediatek 6737 Quad-Core processor clocked at 1.4GHz. This gets paired with 2GB RAM and 16GB of storage. If there wasn't any sort of expand-ability, 16GB as the only variant would have caused problems. Fortunately its not. Performance is quiet adequeate and we will discuss more about it in the software section. We have attached some benchmarks we ran on the system. These benchmarks give a general idea of the phone and its capability however, what they don't represent is that how the phone will perform with daily tasks.
Nokia 3: Camera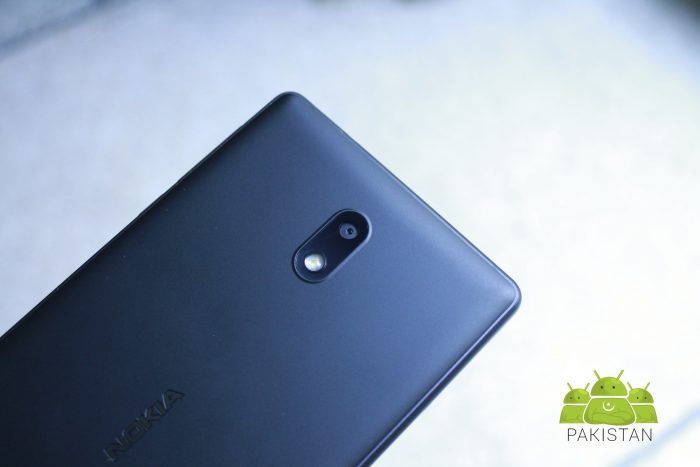 Nokia 3 is targeted at a market where you can't expect flagship camera modules. The brands can only perfect so much but financially, a big burden is the expensive camera module. By sticking with older technology and lower resolutions, these brands pull off these low prices. The Nokia 3 camera is 8.0 MP shooter with f/2.0 aperture. The photos off of this unit are not that sharp and lack color accuracy. However, if the conditions are just right — ample light — the camera can come out with some amazing photos. We have included sample photos right below for you to judge. At this price point, photography is never a priority and for anyone looking to capture amazing photos, they should invest in a point and shoot camera of similar pricing to get better results.
Even though the theme has been budget, the Nokia 3 does come with a front facing camera. It carries the same resolution and aperture as the primary one. The unit serves its purpose well with video conferences and occasional selfies. Both camera modules limit video recording resolution to 720p.
Nokia 3: Connectivity, Memory and Battery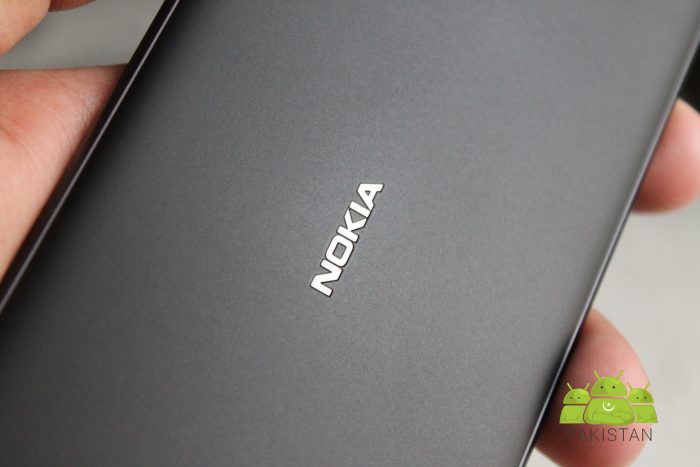 These three things are what we think matter the most in the budget category. Most people look for 4G capability in a smartphone, Nokia 3 checks that. The next thing they look for is the storage, Nokia 3 comes with 16GB stock but has a micro-SD card slot which enables easy expansion for greater capacities. Lastly, they look for a phone which lasts longer, Nokia 3 can well last a day with normal to heavy usage. Many brands have tried to squeeze in 32GB worth of storage but in order to do that, corners have to be cut elsewhere. I'd rather sacrifice storage, keeping in mind that expand-ability is there, rather than sacrifice quality in a module which can't be changed afterwards.
Nokia 3 is a dual SIM smartphone. In other regions, it might come as a single SIM variant but in markets like Pakistan, dual SIM functionality is a feature many users look for and Nokia sports it. You can have a data only SIM running in one slot while use the other slot for a SIM suited for calls and messaging. Also, Nokia 3 has separate slots for the SIM and microSD. You wont be needing to sacrifice one for the other.
Nokia 3: Software
Now here is where Nokia 3 tries to stand out, and I think, it does it pretty well. It is the only other phone I have seen rocking a Pixel launcher as stock except for the Pixel smartphone series by Google. This indicates Nokia has learnt that being close to stock is the key with users. Also, one of the reasons why the older X series by the same brand didn't succeed, was the heavily modified OS. The phone comes with Android 7.0 Nougat. This is all possible with the minimum changes being made to Google's iteration of Android. While other brands focus on running their skin overlays which result in older Android revisions, Nokia has shipped the 3 smartphone with the most stock UI there is and with that, it has served a greater Android revision than many competitors.
A major benefit from running a pure Android OS implementation is the performance. Without any sort of added overlay, the processor and GPU don't have to work hard to keep up. Rather with the pure stock UI, the processor and GPU run very efficiently during the normal navigation. Also, as these overlays aren't present, RAM is freed up and available for apps.
The choice of running Google's iteration of Android and skipping any sort of modification has truly made the Nokia 3 stand out. Updates should be a breeze for Nokia HQ. Despite the updates, the phone is already running the latest version of Android which is 7.0 Nougat.
Default bundled Nokia 3 Apps:
Wallpapers: Nokia has added a Wallpapers app which you can use to get perfect resolution wallpapers for your device. These get updated regularly giving you a wide variety of choices.
Google Duo: Duo is Google's video call solution. It is bundled stock with Nokia 3. You can configure it directly with your Google account. It will automatically sync your contacts and allow you to contact them through video call.
Camera: The camera app is a modified version suited for the Nokia 3. It includes different modes along with HDR capability for even better shots through the lens.
Google Keep: Google Keep is also pre-installed on the device. Keep is a note taking app which supports sync directly with your Google account. This works best when you have multiple devices or you want to view your notes directly on your computer.
Nokia 3: Gallery