This review of Huawei Y7 Prime was originally published on Team Android.
Huawei, a brand known for offering great Android budget smartphones, has come out with the Y7 Prime. This new smartphone from Huawei places itself in the realms of large screen size phones hence the name Y7 Prime. You can also purchase it in a smaller size which is known as the Huawei Y5 (2017). We were lucky enough to have the Y5 2017 with us few months back, you can read about our detailed review for it right here: Huawei Y5 (2017) Review. The new Y7 Prime comes with a subtle design and all metal back. There is an inclusion of a fingerprint sensor as well on the back. We will be assessing the Huawei Y7 Prime in more detail right below.
With all smartphones, users focus on some certain things which they look for whenever buying a smartphone. As every user has a different taste, it is very difficult to satisfy all. However, if the pricing and value for money is there, the phone is bound to succeed. In a sea of budget smartphones, whether the Huawei Y7 Prime makes a substantial impact and sells itself or not, we will have to see in our breakdown right ahead.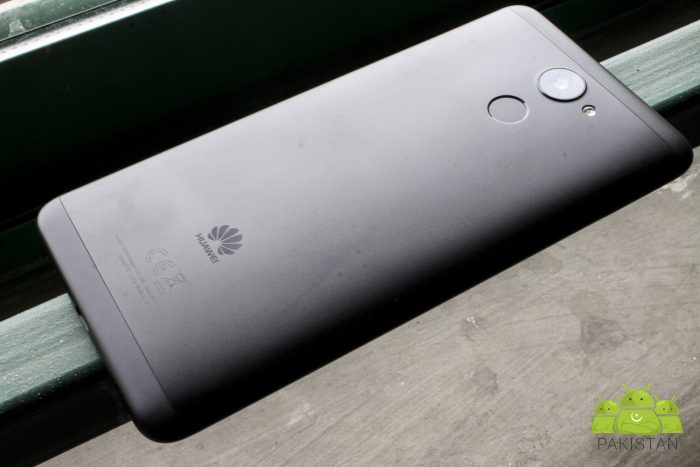 Before starting off, here are the complete technical specifications for the Huawei Y7 Prime:
[table id=13 /]
Huawei Y7 Prime: Design and Hardware
Our unit shipped in a matte black finish. However, you can opt for different colors depending on your region. Starting off from the front side, you would be able to notice the large 5.5 inch LCD panel. The bezels are considerable on each side. On the top, there is your speaker grill placed in the center for calls along with the front facing camera. The phone doesn't come with any sort of buttons on the front which allows Huawei to have considerably thinner chin on the Y7 Prime. It is to be noted that there is no front facing flash. This might not be a big of an issue but most competing brands at this price range include it in their smartphones.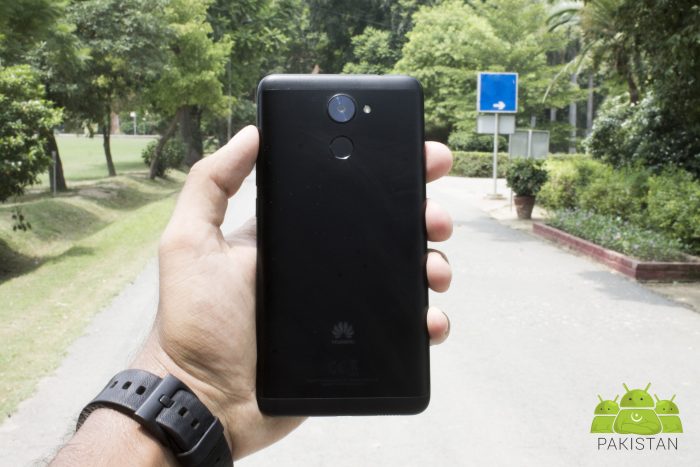 Speaking of display, the display is unfortunately a LCD panel which is nowhere near the smoothness and clarity of  an OLED panel. Then again, competitively, this decision might have been made to cut costs. The display's colors are a little bit less saturated and the resolution is an old and mediocre 720p. While phones have started experimenting with 4K, budget phones should always come with a 1080p panel to make the experience that much better.
On the left edge, you would notice that there no buttons and only one slot. Another odd decision by Huawei, they have included Dual SIM technology along with microSD expand-ability. However, you can't be using both at once. It is to note here that Huawei comes with 32GB standard storage which might be ample for a lot of people but these hybrid SIM trays don't have a place in phones like Y7 Prime which are being sold in regions where there is a heavy importance on Dual SIM capability.
Right edge of the phone houses your power button and volume rocker. The buttons being placed on a single side, there is a need for different textures for each one however, the Y7 Prime doesn't provide that. With few confusions in the earlier usage period of the phone, I got adjusted to them easily, however. The top edge comes with the 3.5mm headphone jack, thankfully, while the bottom edge carries your microUSB port and the speaker and microphone cut out.
Lastly, the backside of the phone. Our unit was shipped with a matte black color which we absolutely loved. It suites the phone quite well. The back is also where you would find the fingerprint sensor. It is conveniently placed right below the camera module. Quite accurate and fast paced but it has few tricks to it, the fingerprint sensor. It is large enough that Huawei decided to make it sort of a touch-pad. You can use the fingerprint sensor to swipe, roll down the notification bar and more. This is a neat trick. It might seem gimmicky at first but the notification pull down was quite useful as you don't have to change your grip to see notifications.
Taking a look at the internals, the Y7 Prime has a Snapdragon 435 chip powering it. The chip itself is quite good for average tasks and gaming, however, you wont be breaking records. To couple it, Huawei has included 3GB of RAM and the standard storage is at 32GB. These are quite adequate specs. For comparison purposes we have benchmark screenshots attached ahead.
Huawei Y7 Prime: Camera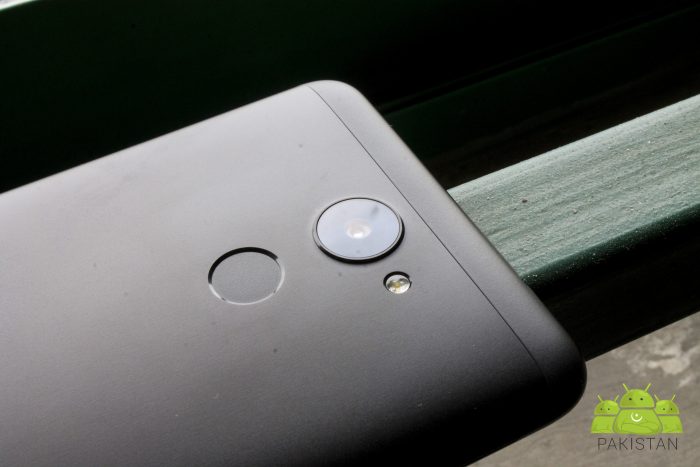 Camera, a constant concern with all budget centered phones. The Huawei Y7 Prime camera is rated at 12MP with f/2.2 aperture. On the low side of modules but Huawei has managed to squeeze out some good photos from it. Daylight will get you the best result but on the opposite end, low light is a difficulty with the Y7 Prime. We used the camera to capture some photos so you get a real world idea of what the Y7 Prime offers. Also, do keep in mind, manufacturers do believe that if a consumer is looking for a camera for quality photography, budget phones would never be the answer. See the attached pictures right below.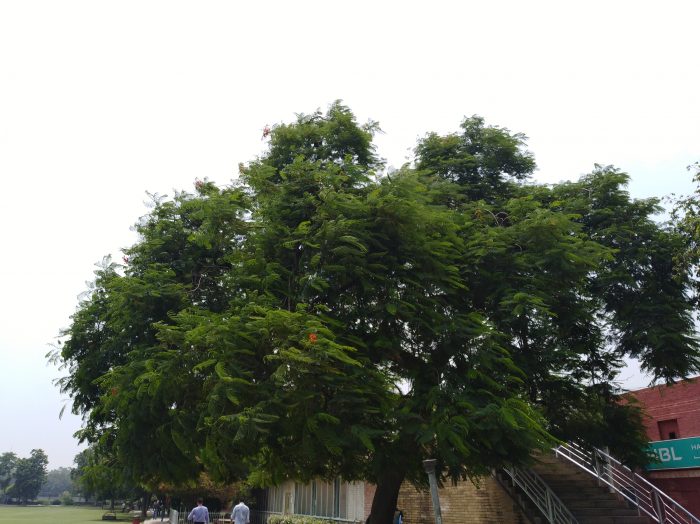 Moving on to the front module, it is an healthy 8MP with f/2.0 aperture. It provides adequate photos but there is noise and the shutter speed is on the slower side. You can capture video with it as well. It, however, misses on front flash. Not that it is needed but many competitors have added this functionality to their devices.
Huawei Y7 Prime: Connectivity, Memory and Battery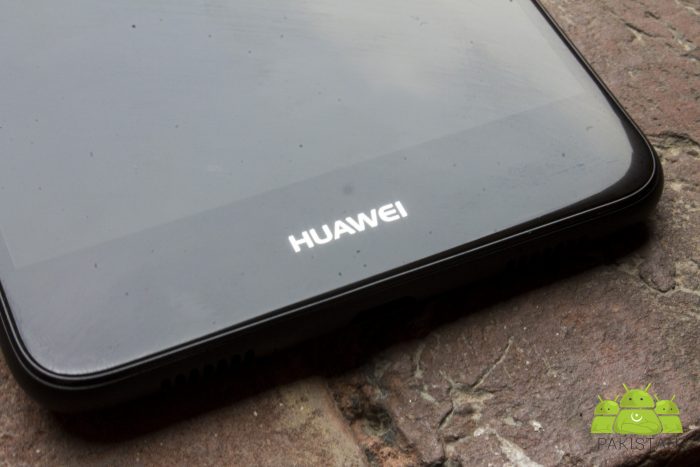 The Huawei Y7 Prime offers 4G LTE capability on all SIM slots. But as we have mentioned multiple times before, if you are to expand the storage of your phone, you are to lose the dual SIM functionality. Dedicated slots were required for this phone but Huawei has skipped that. Moving on, the memory is at a standard specification, the Y7 Prime ships with 32GB of internal storage with 3GB of RAM. Both of these specs are not something unheard of in this range but they are definitely on the higher side.
The Huawei Y7 Prime shines in the battery department. A huge 4,000 mAh battery has been fitted in the device. Further, if you take into account the low powered chipset and the low-res display, this phone can be extended to 1.5 day or 2 day of usage quite easily. This is one strong suit of the Huawei, it offers great stamina. Further, the software also has modes which decreases few features but extends the battery even further. If one thing would have sold this device, it would be the battery on the phone.
Huawei Y7 Prime: Software
Huawei is offering its EMUI 5.1 running on Android 7.0 Nougat. The software experience is truly unique and quite youthful. There are a lot of colors being used throughout the User Interface. Loyal Huawei users would know that there is no app drawer on EMUI and all apps are listed on the home screen. Thankfully, you can use folders to sort everything out and not make your phone cluttered.
The EMUI software is more targeted towards young users. It has vivid colors such as contrasting blue in the notification center with black backgrounds. The icons are also more inclined towards the young customers. This way, the EMUI feels quite vibrant and fun to use. The notification pop-ups, recents and everything else has been managed well. You would definitely feel that this interface has been created by a brand with years of experience under its belt.
Further, few features that strike immediately, include the gestures on the fingerprint scanner. We have seen this implemented before but Huawei provides a large fingerprint scanner on the back which makes these gestures work quite well. Further, as there are no on-screen buttons, you can easily change their orientation to the way you like it.
There isn't any bloat on the Huawei Y7 Prime but here are some highlight apps that come bundled in:
Huawei Phone Manager: This app acts as a central monitor for your phone. It gives you an overview of the security status, storage usage, and functions to clean up your phone.
Huawei Files: The Y7 Prime comes bundled with a Files app for you to easily browse through your internal storage. It sorts data into categories for easier view-ability while also giving you the classic method of browsing folders.
Huawei Tools App Bundle: On your Huawei Y7 Prime, you would find a tools folder which includes some very useful apps. These apps include the compass, weather, calculator, notes, HiCare etc. All of these apps have been designed in coordination with EMUI and they fit seamlessly.
Huawei Y7 Prime: Gallery