This review of Huawei Y5 2017 was originally published on Team Android.
Huawei Y5 2017 is the latest offering from the manufacturer under its budget-phones category. This brand has always been the go-to brand in the budget class and we find out if that still stands true with the new Huawei Y5 (2017) smartphone. For starters, Huawei announced the Y5 (2017) just recently at a very competitive price of RS.15,999. This puts the phone directly in competition with budget smartphones. The phone comes in a single storage variant, that is 16GB. For expand-ability, it comes with a dedicated microSD card slot.
As we posted the unboxing experience of Huawei Y5 2017, it is evident from the box that the key feature is 4G capability. Many users think that 4G has become a standard on all phones but that isn't the case. Most budget phones from small companies do skip on this functionality to keep the price down but Huawei thinks offering high speed data connection will help them sell the new Y5 2017.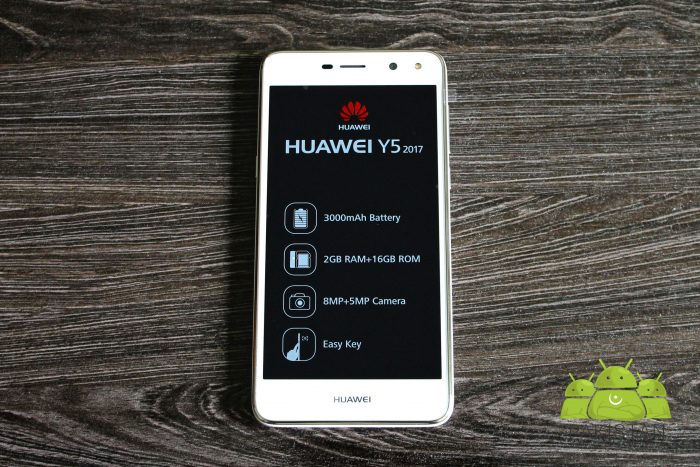 You can read the technical specifications of the phone right below.
Dimensions 143.8 x 72 x 8.4 mm
Network GSM / HSPA / LTE
Display IPS LCD capacitive touchscreen, 720×1280, 5.0 inches
Processor Mediatek MT6737T, Quad-core 1.4GHz
Memory 16GB ROM with 2GB RAM
OS Android 6.0 Marshmallow
Camera Primary: 8MP, f/2.0 Secondary: 5MP
Video MPEG4, H.265(HEVC), H.264(AVC), H.263, VC-1, MP43, WMV7, WMV8, VP8, VP9
Audio MP3, AAC LC/AAC+/eAAC+,AMR-NB, AMR-WB, WMA, FLAC, Vorbis, Opus
Additional features Accelerometer, proximity, compass, EMUI 4.0
Connectivity Wi-Fi 802.11 b/g/n, Bluetooth 4.0, microUSB 2.0
Battery 3,000mAh
Huawei Y5 2017: Design and Hardware
Right as you hold the Y5 2017, you would feel the plastic back cover, reminiscent of old days where glass and metal was a fantasy. The plastic, however, serves a good function, it helps make the back removable. However, then again, you find out that the battery is not user replaceable rather you would need a set of tools to get to it. This kind of defeats the purpose of having a removable back and leads us to believe that this decision was made for cost savings. As the back cover almost extends to the front, there is no space for a rim. However, there is a sleek silver line bordering the phone which tries to replicate metal.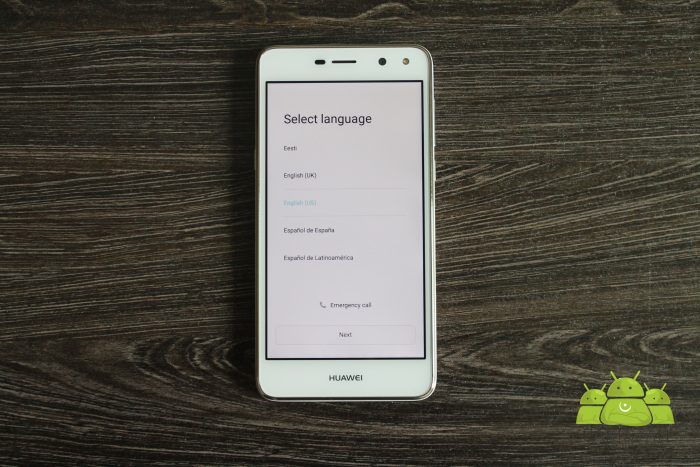 The screen forms the major part of the front side. It is a 5.0 inch panel with minimal borders on the side. As our unit was white, we could see the black panel gap found in the display however, in the black variant, this might not be just as visible. The resolution is 720p and that is what we expect for the price. The only gripe was the sharpness as it felt a little less. On the colors end, it felt good. Rest, you would find the Huawei logo at the bottom and your normal array of sensors on top of the screen. There is an extra addition of flash light for the front camera.
Moving on to the right side of the phone, here is where you would find your power and volume buttons. The power button is placed near the thumb and the volume buttons fall on top. This arrangement was easy to get use to.
On the left side, there is a surprise button. This is called the Easy Key. I think this is a very good feature. Similar to old BlackBerry phones, this key is left for the user's discretion. You can either set it to perform certain actions on a single press, double press or hold or set it to open an app. For the purposes of this review, I set the Easy key to take a screenshot when I single pressed it. It performed quite well and the ease of use was amazing. No extra menus or options, all worked great.
On the top side of the phone, you would find the headphone jack. Which, in these days, is regaining its place towards becoming a feature rather than being a standard. The bottom half houses the single speaker and microUSB. There are two cut outs on the bottom which might lead you to believe that there are two speakers but one is dedicated to the microphone.
As mentioned earlier, the back cover is plastic and wraps all over the phone. So much that the buttons are housed in the plastic shelf as well. It comes off to help you access the dual SIM slots and the microSD card slot. We expected a removable battery but that isn't so and we think this defeats the purpose of having a plastic shell in the first place.
Huawei Y5 2017: Camera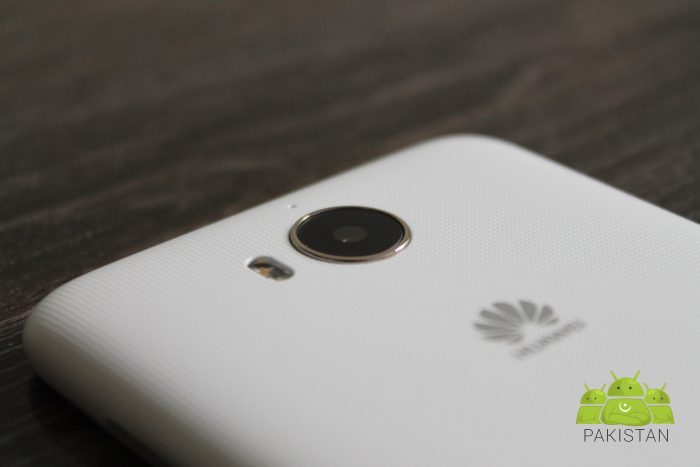 Camera, something that not many similar priced smartphones shine in, isn't anything to write home about in the new Y5 2017. It is a 8.0MP shooter with a f/2.0 aperture. It lacks sharpness, colors aren't as accurate. What we take away from this is, the module on the Y5 2017 isn't going to top charts or rock instagram but then again it isn't supposed to. Camera modules are expensive and users know that. If you are into photography, you wont be relying on your Y5 2017. And for the average user, the output of the smartphone is just enough.
The front shooter is a 5MP shooter with an added LED flash. For video calls, it is quite enough. In terms of front cameras, this one falls in the good category when compared with the competition. The camera app comes with some extra modes that help even further refine the photo. Lowlight conditions do result in a lot of noise hence, the addition of the LED flash. I didn't find it that much useful but for others it might be different. Also, I think there might be some research demographic that is saying yes to this feature as we see it again and again on only budget phones and not the flagships.
Here are some sample shots from the main camera of the Huawei Y5 2017: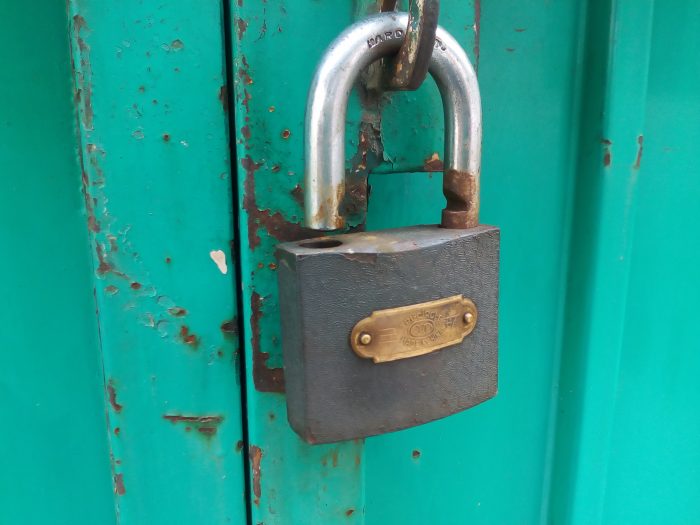 Huawei Y5 2017: Connectivity, Memory and Battery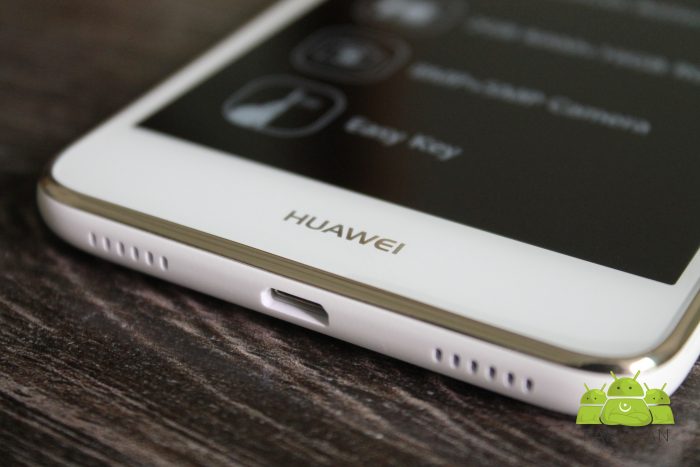 Y5 2017 is a dual SIM smartphone which supports 4G LTE on one slot. For developing markets like Pakistan, users usually have multiple SIMs. One serves as a data SIM for internet while other is dedicated for calls and messaging. This gives the Y5 2017 a good advantage. Furthermore, speaking for the internal storage, the phone comes in one variant that is 16GB storage and 2GB RAM. The RAM is ample but internal storage might raise some eyebrows. However, the Y5 2017 covers it up with an expandable microSD card slot.
The battery capacity is rated at 3,000mAh which translates to a day's worth of heavy usage. Huawei should have extended the battery capacity as we have even seen 4,100mAh battery fitted in a smaller phone. The Mediatek MT6737T processor is efficient enough that it makes the best out of the battery and provides performance. On benchmarks, it doesn't show as much but it handles apps well and can keep up with multitasking.
Huawei Y5 2017: Software
The software is the key distinction with budget phones coming from brands like Huawei who have years of experience developing their Android skin. The Huawei Y5 2017 ships with Android 6.0 Marshmallow and EMUI 4 (Emotion UI). Yes, the phone ships with the older generation of Android. As Android O is just round the corner, once it gets released, this phone will be two iterations backward. This is probably the only issue I have with Huawei on the software department of this phone.
Taking a look at EMUI, you would see it is quite refined and ships with no bloat. There were two extra apps that were sorted away in a separate folder. EMUI quits the App Drawer and puts all the apps on your home screen. This works quite well. Also, I had my device set up with 5×5 grid which gave me a lot more icons on a single screen and made the phone seem bigger in size than it actually was.
EMUI is focused around user customization. You can download themes and apply them, modify the on-screen buttons and their orientation, and more. Also, small additions such as the double tap to unlock the phone work well as the phone doesn't ship with a fingerprint sensor.
Lastly, the selection of Huawei stock apps is quite large. It comes with all the necessary apps to have your phone running and more. The extra apps include Huawei HiCare, Mirror app, Compass etc. All of these are sorted in a folder, out of your way but you have access to them once you feel the need.
Default bundled Xiaomi Apps & Features:
Huawei Phone Manager: This app acts as a central monitor for your phone. It gives you an overview of the security status, storage usage, and functions to clean up your phone.
Huawei Files: The Y5 2017 comes bundled with a Files app for you to easily browse through your internal storage. It sorts data into categories for easier view-ability while also giving you the classic method of browsing folders.
Huawei Tools App Bundle: On your Huawei Y5 2017, you would find a tools folder which includes some very useful apps. These apps include the compass, weather, calculator, notes, HiCare etc. All of these apps have been designed in cordination with EMUI and they fit seamlessly.
Huawei Easy Key: This is one of the highlight features of the Huawei Y5 2017. The extra key on the left side of the phone can be easily modified to perform a certain action or open an app. You can access it through the Settings app.
Huawei Y5 2017: Gallery