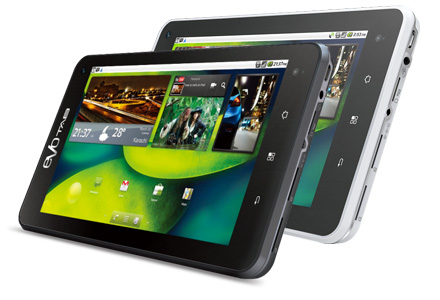 PTCL gave us all a surprise on this Independence Day with the launch of PTCL 3G Evo Tab. I know AndroidPakistan.com has been a bit off-news for the past few days, but hey, we're back alive and kicking to catch on the latest Android happenings in Pakistan.
Android tablets are becoming the next big thing, and PTCL didn't want to stay behind in that. PTCL Evo Tab has a 7-inch screen, multitouch display, 800 MHz processor, 512MB RAM, 5 megapixels camera and is powered with Android 2.2 (Froyo).
PTCL was planning an Android tablet for a long time. A few months ago, they were also working on bringing the Motorola XOOM (3G Evo version) to Pakistan, but due to some reasons, they didn't go with that plan. May be, this will be coming next as a high-end PTCL 3G Evo Tab?
Here is what the official website has to say about the 3G Evo Tab:
Introducing Pakistan's First 3G Enabled Smartphone Android Tablet—3G EVO Tab. Powered by Google Android Froyo2.2 OS, EVO Tab is a 7'' capacitive multi gestures touch screen tablet packed with features of both a tablet and a GSM phone that lets you surf, talk, tweet & do a lot more simultaneously on-the-go in more than 100 cities nationwide.
Now let's move on to the tariffs at which this PTCL 3G Evo Tab is being offered.
PTCL 3G Evo Tab Launch Offer – Tariffs

PTCL 3G Evo Tab Post Launch Offer – Tariffs
Evo Tab Unlimited – Rs. 2000/month – Unlimited Bandwidth
Evo Tab 5GB – Rs. 1500/month – 5GB Download Bandwidth
Evo Tab 2GB – Rs. 1000/month – 2GB Download Bandwidth