It is not every day that new Android tablets are launched in Pakistan. The last one we remember was the Samsung Galaxy Tab 10.1 launched with Mobilink and is still one of the most popular Android tablets in Pakistan. The next one in town is the Acer Iconia Tab A500.
A few days back, we posted about the Acer Iconia Tab A500 being launched in Pakistan. We got our review unit and are ready with a full review of it.
Acer Android phones never did good in the Pakistani market, but we believe, this tablet will do a lot better because of the features set it offers in one nice 10-inch package. We spent a lot of time using the A500 – watching movies, playing music, using it for writing a couple of posts on this blog (and some portion of this review as well), used it for editing Power Point presentations etc.
Let's not waste any more time and get on with the review…
Acer Iconia Tab Review
Acer launched the Iconia Tab in the mid-2011 in few countries and kept rolling it our slowly in various markets and regions. It took some time to get it to Pakistan, but oh well, never late than never. Acer Iconia Tab A500 is now available in Pakistan as well.
A quick go-through of the specifications include 10.1-inch display screen, 1GHz dual-core processor, 1GB RAM, tons of storage, a 5 megapixels camera at the back and Android 3.0 (Honeycomb). Let's take a look at the specifications in a bit more detail.
Acer Iconia Tab: Specifications
Display: 10.1″ WXGA HD multi-touch display (1280 x 800 pixels)
Processor: 1GHz NVIDIA Tegra 250 Dual Cortex A9
Memory: 1GB DDR2 RAM
Camera: 5 megapixels camera with autofocus, LED flash, front camera for video calls
Video: Video recording at standard resolution
Storage: 32GB SSD internal storage, supports microSD card up to 32GB
Connectivity: Bluetooth 2.1, WiFi, microUSB, USB 2.0
Other: A-GPS, 3.5 mm jack, accelerometer, Acer Sync, LumiRead, SocialJogger, PhotoBrowser 3D, NemoPlayer, Media Server, Clear.Fi etc.
Battery: 3260 mAh Li-Po battery
OS: Android 3.0.1 Honeycomb
And now, let's continue with the rest of the review in detail.
Acer Iconia Tab: Design & Body
Acer Iconia Tab is one stylish tablet with a black bezel on the front and rounded silver edges. It has an aluminum back, hence the heavy weight – we'll get on to this later. The multitouch display is highly reflective, but a bright screen with good and vibrant colours.
The Iconia Tab has a 2 megapixels camera on the front on the left side of the screen (if held in the landscape orientation). The back side of the tablet has the 5 megapixels camera, LED flash and dual speakers with Dolby Surround. There are no buttons on the front side of the screen like all the other Android tablets. Android 3.0 has on-screen buttons for Back, Home and Opened Apps.
The tablet is rather thin on the top and bottom sides and thick from the other edges. On the top of the A500, you find the volume keys, the orientation lock switch and a small opening at the top for the microSD slot and your device S/N no. At the bottom, there is a port for the dock.
Most of the ports are on the sides of the tablet. Left side has the power button which doubles as the charging light, 3.5mm audio jack and a micro HDMI port (HDMI converter cable is sold separately).
Right side of the tablet has the full USB port, a micro USB port for connecting the tablet with a PC and the charger pin slot for charging your Iconia Tab. The fact that you can't charge this tablet with a microUSB cable could get annoying at times.
We did an unboxing video of the Acer Iconia Tab a few days back. You can watch it below, if you missed it.
Acer Iconia Tab weighs 730g and is 13.3mm thin. Despite the bulkiness of the A500, it felt really good in my hands. It is one fine piece of hardware. It didn't give me the feeling that I'd easily drop it or it would slip out of my hands because of being too thin. The rounded edges are just perfect. Just remember, this is no tablet to hold it over you while in bed.
Acer Iconia Tab: Display Screen
Iconia Tab A500 sports a 10.1-inch display screen which provides a resolution of 800 x 1280 pixels. We have one complaint here. The front should have been fingerprint-resistant, atleast. The screen attracts a fair mount of smudges, fingerprints and too much glare from around. It is highly reflective that at times, you will be actually seeing your reflection when using the tablet in direct sunlight or in low brightness.
Other than that, the display is really good. Viewing angles are pretty impressive that makes it easier to dock the tablet and then watch something on it. May be due to the resolution, the pixels on the screen can be spotted with a naked eye – which is not a very good thing. Outdoor visibility is only possible to some extent when the brightness is at full.
A500 comes with a micro-HDMI output. You will have to buy the cable separately, but an HD output to TV is a bliss when watching HD movies, photos etc.
Acer Iconia Tab: Performance & Gaming
Acer Iconia Tab is powered with a 1GHz NVIDIA Tegra 250 Dual Cortex A9 processor chip with 1GB DDR2 RAM on board. In other words, you will never run out of memory no matter how many apps you open and multitask between them. Apart fro mthe usual lag found in the early builds of Honeycomb, Acer Iconia Tab doesn't seem to slow down because of running apps nor stutter while in an app.
Our benchmark results showed the Acer Iconia Tab to perform better than the Motorola Xoom. It pulled off Quadrant scores around 2200 on average.
A500 can easily play 720p videos, but had issues with 1080p video files. We even tried a few graphics intensive games like the GTA III, and they all worked like a charm thanks to the Nvidia chip under the board. Iconia Tab comes with Tegra Zone, where you can download/purchase HD games exclusively launched for Android phones and tablets with the Nvidia Tegra 2 processor on board. The tablet comes pre-installed with games like NFS Shift, Let's Golf etc.
A quick video of Angry Birds and Fieldrunners HD on the Acer Iconia Tab A500:
Acer Iconia Tab: Camera
Camera quality on the Iconia Tab has been relatively good. Comparing it with many other Android tablets, Iconia Tab's results were much better. It comes with a megapixels camera at the back and a 2 megapixels camera on the front for video-calling or self-shots. Video calling with Google Talk, Tango and Skype work great! We didn't have any issues making video calls with these apps.
A slight glitch I found, could be because of the Android 3.0 software, is the slow focus. My unit was not updated to the latest Android 3.2 update for the A500, may be, this was the reason. We hope the bug has been resolved now and camera is up to speed with proper focus.
Here is one sample shot of a french fry at McDonald's, taken with the Acer Iconia Tab A500: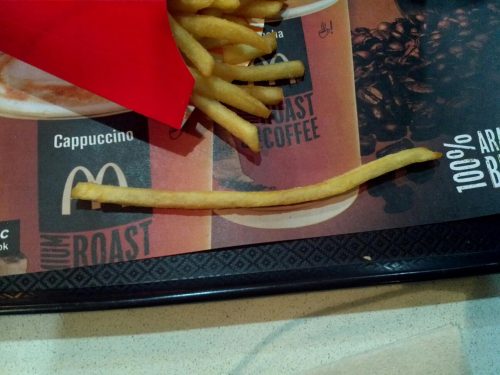 It takes some really nice macro shots with its camera. We loved that!
Acer Iconia Tab: Battery
Battery life is good on the Iconia A500. For me, with normal usage, it helped me go through one entire day easily. With some heavy usage, watching videos/movies, music and apps running in the background with email accounts sync on, it will give you around 6-7 hours of battery time.
Acer Iconia Tab has a 3260 mAh battery under its rear cover. So, we believe, this battery timings are fine with moderate usage of the tablet.
Acer Iconia Tab: Software
OEMs are known to slap a custom skin of their own to Android's UI i.e HTC Sense, Samsung TouchWiz etc. Acer has done some very light additions of their own to the Honeycomb UI offered by Google. Not really user interface changes, Acer has added a few custom apps and minor enhancements throughout the OS.
Some of the custom apps that come with this tablet are: Acer Sync, LumiRead for going online to read books, SocialJogger combies your social feeds, PhotoBrowser 3D to browse photos with gestures, NemoPlayer for playing media files, Media Server to stream or share content wirelessly and Clear.Fi is another media server app that does the same job.
NOTE: Since many of you would be interested to know this, Acer Iconia Tab A500 will not get Ice Cream Sandwich (Android 4.0) software update. Instead, there are some new models coming this year which will have Android 4.0 and will be upgradable.
Acer Iconia Tab: Gallery