I have already shared the Mobilink GPRS/EDGE settings for Android handsets a while ago, but for some reason I couldn't get the MMS settings to work.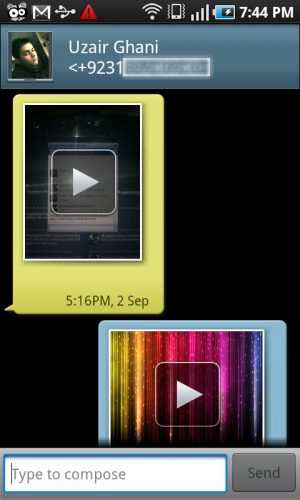 After getting in contact with Mobilink, I finally figured out the correct MMS settings for Android phones – and they actually work.
Follow the steps below to get your Mobilink MMS working on your Android phone!
Go to Settings > Wireless & networks > Mobile networks >Access Point Names.
Press the 'Menu' key and select "New APN".
Now use the following settings:
Name: MMS (anything you like)
APN: mms.mobilinkworld.com
Username: Mobilink
Password: Mobilink
MMSC: http://mms/
MMS Proxy: 172.25.20.12
MMS Port: 8080
MMS Protocol:: WAP 2.0 (Only if it asks you)
MCC: 410 (should be there by default)
MNC: 01 (use whatever is there by default)
APN type: mms
You can leave all the other fields blank as they are and save these settings.
These settings actually work and I have tested them myself on my Samsung Galaxy S. I successfully received a MMS from a Zong number (screenshot above).
NOTE: These settings may not work on all Android handsets. Like it didn't work on my Nexus One. Please let me know on what Android phones these work. Thanks!