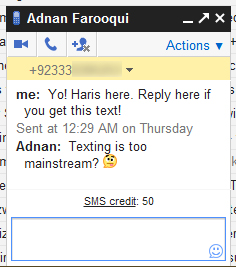 Gmail SMS is now available for Ufone numbers as well. Gmail SMS was initially launched in February by Google and was only available for Mobilink numbers, but now, you can even send free texts to Ufone numbers. There is no official announcement by Ufone yet, but we are guessing it would be up soon on their Facebook/Twitter pages.
What is Gmail SMS? It is a free web-to-SMS service which allows Gmail users to send text messages to any Ufone subscriber via Gmail chat. Ufone users can also reply back to that SMS which will appear on Gmail user's chat box – just like chatting on Google Talk. For more details, read: Gmail SMS – How Does It Work and Details.
How to Send Free SMS from Gmail to Ufone
For a quick tutorial on how to send free texts fro, Gmail, follow the instructions below:
Log into your Gmail account.
In Chat and SMS text box (left sidebar), enter the Ufone number where you want to send the text and click on Send SMS from the side window.
In the pop up box, enter the name of message recipient in Contact Name text box; check the country name and mobile number (MSISDN) of mobile recipient (Ufone number) are correct. Once done, click Save as it will help to build contact list.
Type message in the chat window and hit Enter. Message will be sent to the mobile number entered.
To send message to already saved contact, type his name or number in Chat and SMS text box. Desired contact will be displayed below. Select it from the list and send message.
For the Ufone subscriber:
To respond to the message received from Gmail user, simply reply to the text from your phone. Reply will appear on the Chat window of the Gmail user.
Ufone subscriber can reply to the message received from Gmail user within 24 hours.
SMS Credits in Gmail Chat: Everything About Them
You must have seen the "SMS Credits" count at the bottom of your chat box and it decreases after every SMS you send in the chat. Well, here is how that works and how you can get more credits:
SMS credit is an allocation of SMS (text messages) that you're able to send to a mobile phone:
Initially, you're granted a credit of 50 messages.
Every time you send a message, your credit decreases by one.
Every time you receive an SMS message in Chat (for example, when a phone user replies to one of your messages) your credit increases by five, up to a maximum of 50.
If your SMS credit goes down to zero at any point, it will increase back up to one 24 hours later. So, you won't ever be locked out of the system.
Want more SMS credits immediately? Read below:
Keep in mind that if you'd like a higher message credit, you can always send an SMS to your own phone, and then reply to that message multiple times. Every time you send a reply message, your SMS credit is increased by five. Effectively, you're buying more messages by paying your phone company for these outgoing messages.
NOTE: Standard rates will apply to texts sent by Ufone users to Gmail. They are NOT free!
I hope this was helpful to you and clears any confusion about Gmail SMS feature. If you still have any questions, feel free to ask in the comments below.