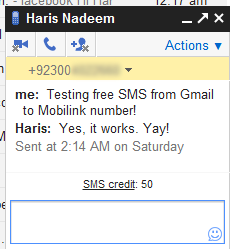 I'm sure you heard about the Gmail SMS feature by Mobilink. And guess what?! Ufone is coming up with the same – very, very soon! And by soon, I mean, really soon! Soon all you Ufone users will be able to chat free with Gmail users through SMS.
Gmail SMS is a free web-to-SMS service which enables Gmail user to send SMS to any Ufone subscriber via Gmail chat. Ufone user can also reply back to that SMS which will appear on Gmail user's chat box.
P.S. The above screenshot is of Mobilink Gmail SMS.
This free service has been available in many countries all over the world for a while now, but unfortunately, Pakistan was not included in the supported countries. Well, it started with Mobilink and now Ufone has joined the train as well.
More news coming up soon as the feature gets rolled out!
Also read: Gmail SMS: How Do It Work and Details