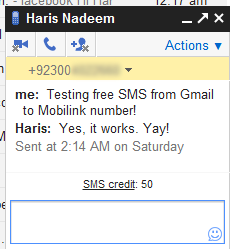 Google just rolled out their Gmail to SMS feature for Pakistan. Yes, you can now send free SMS to Mobilink numbers from your Gmail or Google Chat! Official announcement from Mobilink/Google is expected on Monday since it is the weekend now.
This free service has been available in many countries all over the world for a while now, but unfortunately, Pakistan was not included in the supported countries. Well, it is now available for Mobilink numbers only!
SMS in Gmail
Gmail chat lets you easily send text messages to and from cell phones (Mobilink only, for now). It is a quick and easy way to connect with people while you are online and don't feel like reaching out to your phone just to text someone.
How to Enable SMS in Gmail
SMS in Gmail doesn't work straight away from your account. You will have to enable it first from the Gmail Lab. Follow the steps below:
Sign in to Gmail.
Click on the gear icon in the upper-right.
Select Gmail settings and then select Labs.
Scroll down until you see Text Messaging (SMS) in Chat.
Select Enable and scroll down to Save Changes.
This will enable SMS in your Gmail chat and you will be able to free SMS to Mobilink numbers!