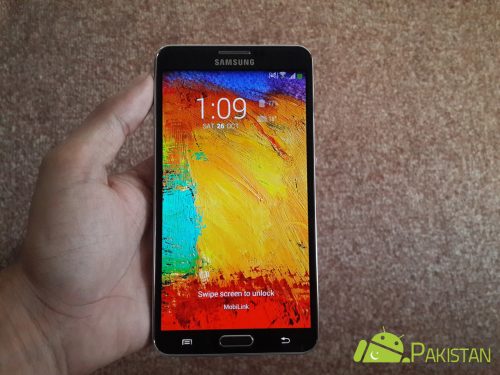 Look what did we get today! An all new Samsung Galaxy Note 3, the latest and the greatest Android device from the Samsung Galaxy Note series. A few weeks back, Galaxy Note 3 was officially announced at a media event in Lahore and has been available in the market since then. We will be reviewing the Samsung Galaxy Note 3 very soon, but before that, let's quickly go through the unboxing photos we took today when opening up the box which looks very much like the box of Samsung Galaxy S4.
Samsung Galaxy Note 3 is the first Samsung device to come with Android 4.3 (Galaxy S4 will be getting this update next week or so!), an Octa Core processor, 3GB RAM (my MacBook Air has 4GB of RAM!), a gorgeous 5.7 inch full-HD Super AMOLED display, 13 megapixels camera and 32GB of storage memory to start with.
Samsung Galaxy Note 3 Unboxing
Here are the photos of what you get inside the box of Samsung's most expensive phone (pricing details given below) so far:
Samsung Galaxy Note 3 is available exclusively from Ufone with a bundle offer for Rs. 82,999. Ufone's exclusive bundle offer includes one month of free calling minutes, SMS and mobile Internet with this phone.