Samsung Galaxy S III is coming very soon to Pakistan – expected to be in the market by early next month. And guess what, we have already got our hands on the most anticipated Android phone of 2012, exclusively in Pakistan!
The Galaxy series of Samsung has always raised the bar of how powerful an Android smartphone could go up to with latest and new hardware, innovative features and a highly customized version of Android which truly shows the power of what possible things you could do with a smartphone.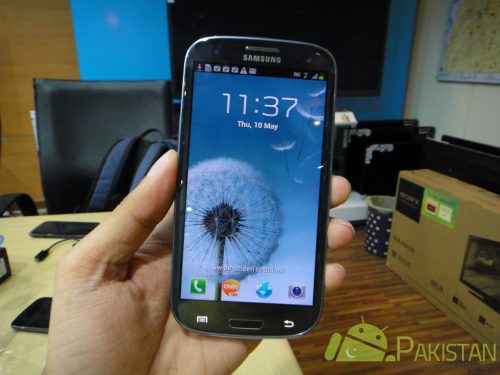 For those who remember, we also got our hands exclusively on the Samsung Galaxy S II last year, thanks to Samsung Pakistan, and the same goes for the upcoming Samsung Galaxy S III as well.
Let's get on with a our quick hands on preview of the Samsung Galaxy S III. Please note, this is not the final review. This is just a preview of what our initial thoughts are of the device after we played with it for a few hours.
Samsung Galaxy S III – Preview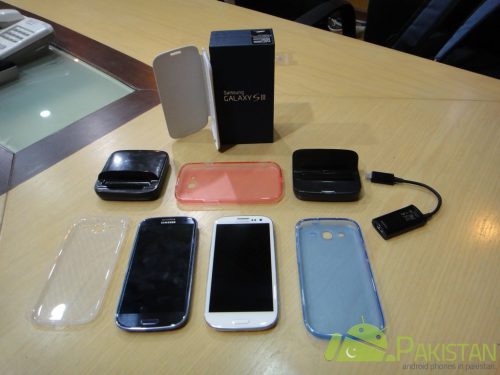 According to some sources online, Samsung Galaxy S III has already received about 9 million pre-orders. Similar to the SGS2, a pre-order page is expected in Pakistan for the SGS3 as well which should go live in a few days just before the launch. Samsung Galaxy S III can be described in three words – lightweight, fast, big.
Let;s take a look at some technical specifications of the Samsung Galaxy S III.
Samsung Galaxy S III: Specifications
Display: 4.8-inch Super AMOLED display (720×1280 pixels), Corning Gorilla Glass 2
Processor: 1.4GHz Quadcore Exynos 4212 Cortext-A9 CPU, Mali-400MP GPU
Camera: Primary – 8 megapixels camera with autofocus, LED flash. Secondary – 1.9 megapixels.
Video: Primary – 1080p video recording at 30 FPS. Secondary – 720p video recording at 30FPS.
Memory: 1GB RAM, 16/32/64GB internal storage, supports microSD card up to 64GB
Connectivity: Bluetooth 4.0, WiFi, microUSB
Other: A-GPS, 3.5 mm jack, accelerometer, S Voice, 50GB Dropbox space and much more..
Battery: 2100mAh Li-Ion battery
OS: Android 4.0 ICS with TouchWiz 5.0
Samsung Galaxy S III: Unboxing
Here is the unboxing video of the Samsung Galaxy S III:
Samsung Galaxy S III: Design
One of the reasons that put off the new Samsung Galaxy S III for many soon-to-be consumers is the design. The truth is, people hate it. Why? Just by judging from press photos is not the answer. We reserved out comment till we actually got our hands on the SGS3, and folks, it is beautiful!
We do agree that the phone is again has a very cheap plastic look to it, but once you hold the phone and use it, you soon forget the plastic touch and start enjoying the performance beast that is in your hands. The actual truth is, once you use the phone, you don't really get time to even notice the round edges or the plastic body because of the huge 4.8-inch display screen. The look of the Samsung Galaxy S III has been inspired and made to look like that of a pebble.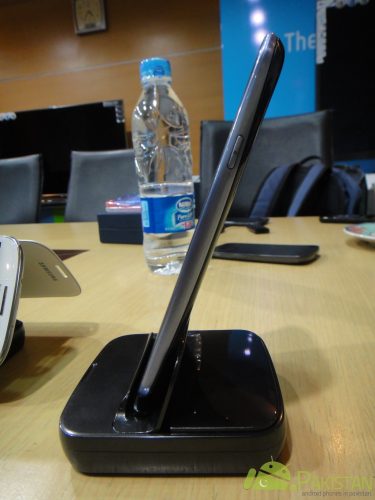 The phone is very light in weight and is very thin. The curve at the bottom of the phone gives it a good grip when holding the phone. We'll cover lots of other aspects when we do a full review of the phone.
Samsung Galaxy S III: Hardware
Samsung Galaxy S III is powered by a 1.4GHz Exynos 4 Quadcore processor which has been developed by Samsung for their Samsung devices. Galaxy S3 is the first one to have it. The new SGS3 is a beast when it comes to performance and multimedia power in a small handheld device.
First, the gorgeous 4.8-inch Super AMOLED display is just wow! You just wish to keep looking at the screen. The display is bright, vivid with great contrast. We wanted to see on-screen button on the Samsung Galaxy S III, but Samsung has again used the two capactive buttons and a hard Home button just below the screen.
The phone comes with an 8 megapixels camera which is capable of recording full HD videos at 1080p. The 1.9 megapixels front camera can be used for video calling and also recording videos at 720p. Zero-shutter lag feature is amazing. You keep on tapping the capture key in the Camera app and the phone will keep on taking photos – as if the shutter doesn't even open. Sample photos and videos will be posted later.
Samsung Galaxy S III: Software
Samsung Galaxy S III is powered by Android 4.0 (Ice Cream Sandwich) with TouchWiz 5.0 on it. Unlike HTC Sense on HTC phones, TouchWiz is not that ugly or heavy on phone resources. SGS3 comes with many pre-loaded apps made by Samsung or you can always download more new apps from the Google Play Store or the Samsung Apps hub.
Phone on the software side is extremely fast and apps load in a blink with no lag at all, what so ever! We couldn't try games on the Samsung Galaxy S III but will be posting some benchmark results with the HTC One X.
S Voice by Samsung is really cool. All you have to do is speak to the phone by saying "Hi Galaxy" and then speak with whatever you want your phone to do. You can see it in the video below how fast  and accurate it is:
And not to forget, all users who buy the Samsung Galaxy S III will get 50GB of Dropbox space instantly (for two years) as you login with your Dropbox account on the phone.
Samsung Galaxy S III: Gallery