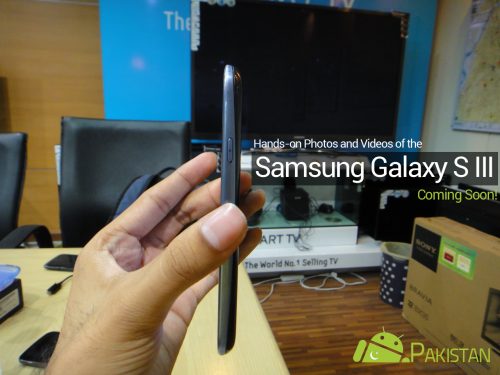 Samsung Galaxy S III. Yes, the most hyped and anticipated Android phone of the year will be making its way to Pakistan soon, very soon! I'm sure you did read our previous post on how Samsung is planning to bring the Samsung Galaxy S III to Pakistan along with rest of the world.
So yes, it's true. Pakistan is part of the global launch of the Samsung Galaxy S III which starts on May 29 in Europe and some other countries. The expected time period/date for the Samsung Galaxy S III to launch in Pakistan is the first week of June – yes, the same time period as the launch in North America.
No official pricing details yet for how much this phone will be sold in Pakistan, neither do we know if the Samsung Galaxy S III will be available through a carrier or by Samsung directly. Let's digest and enjoy what we know so far.
And for those who have been following our Facebook page, we announced earlier that we will be bringing you a complete hands-on of the Samsung Galaxy S III with photos and videos – EXCLUSIVELY in Pakistan! Follow us on Facebook and don't miss out all the good stuff coming ahead!