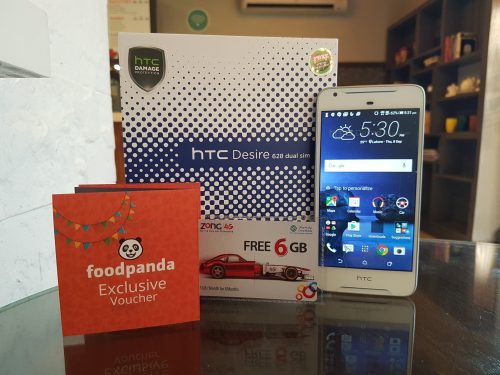 As you all are aware, HTC Pakistan relaunched and entered the Pakistani market in May 2016 with several of their low and mid-range Android phones. We have always been a fan of what HTC has done with Android over the years and how their new UI is highly optimized for mid-range devices. Not just that, HTC phones now come with complete official warranty by M&P (Muller & Phipps).
The new phones launched are HTC Desire 628, Desire 630, Desire 830 and HTC One X9 — and all these phones support 4G LTE. You get free Zong 4G data bundle for 6 months and a Foodpanda voucher worth Rs. 500 with every purchase of these new phones. Moreover, these phones are protected under HTC Damage Protection which gets you accidental warranty coverage.
The prices of the new HTC phones are as follows:
HTC Desire 628: Rs. 23,999
HTC Desire 630: Rs. 23,499
HTC Desire 830: Rs. 30,999
HTC One X9: Rs. 39,999
Availability
HTC Desire 628, 630, 830 and HTC One X9 have been available in offline and online stores since September 1, 2016.
Press Release
You can read the official press release below:
HTC launches a new wave of innovation with its line of handsets

After the successful launch of HTC Smartphones in Pakistan few months back, M&P is all set to launch HTC's next generation 4G enabled smartphones for the people who want more from their phone.

Mr. Shahrukh Rohilla, Business Unit Head – M&P | HTC Pakistan, speaking at the launch said that, "HTC has always worked with the ambition of creating one of its kind devices and at M&P we are very pleased to launch HTC's next generation devices packed with the power of 4Gand backing of M&P's exceptional after sales service commitment. Since the launch in May earlier this year, we have received very encouraging response from the consumers & we are hoping that the new lineup with its value additions will surely make an impact. These new devices are packed with exciting features and some amazing value additions in the shape of Free Zong 4G data Bundle for 6 Months, HTC Damage Protection which gets you accidental warranty coverage & Foodpanda voucher worth PKR 500 that can be redeemed in over 200 restaurants".
The new entrants in the HTC family are Desire 628, Desire 630, Desire 830 and HTC One X9.

HTC Desire 628 4G Lte – Power Unleashed

To be in the limelight and choose what's best for you, get your hands on the new HTC Desire 628. The 3GB RAM & 32GB storage capacity will surely increases your excitement & desire for this handset. It has distinctive dual tone design and the phone's interface enables you to customize everything, from wallpapers to fonts, ringtones to icons; to suit style. The built-in Photo Editor gives you tools to realize the true potential of your candid clicks and the entertainment doesn't stop there, the Desire 628 offers an incredible 5MP selfie camera, and 13 MP Rear Camera, Powerful Octa Core 1.3 Ghz processor and Crisp 5 Inch Display!!

The Phone will be available at just PKR 23,999 Only!

HTC Desire 630 – Go ahead and make an impact

HTC Desire 630'sunique micro splash styling, impressive audio and great cameras on front and back makes it truly desirable. The soft and comfortable grip with fine micro splash finish makes it handy and pretty at the same time. The device is not all about the looks, you can listen to your favorite music with Premium quality, Hi Res audio headset. The 630 also has a Built-in Photo Editor that ensures you enjoy sensational selfies and to top it all, the Desire 630 lets you enjoy the power of 4G on both SIMs simultaneously. What else could one ask for?

This handset is available at an amazing price of 23,499 PKR only

HTC Desire 830 – Selfies like never before

Now enjoy better selfies with Desire 830 Ultra Pixel Selfie Camera, even in low light with new HTC Desire 830's 5MP front and 13 MP back camera. The built in Photo Editor lets you apply special effects like Prismatic or Double Exposure with just a touch. HTC has juiced up the 830 with powerful speakers that recreate the effect of 5.1 surround sound that is bound to test your ear drums. To further sweeten the deal, Desire 830 comes with HTC Sense™, HTC BlinkFeed™ and HTC Themes that allows you to personalize your device suited to your needs.

The device will be available at an amazing price of 30,999 only.

HTC One X9, packed with city smarts

HTC X9 big screen, slim body, Metal feel, long battery life and great front camera enables you to stand out from the crowd. It comes with the most amazing feature of sensing movement and rescuing your pictures from unwanted blur. For clicking the best selfies, all you need to do is raise your hand with a smile and the auto selfie feature of HTC X9 takes care of the rest. With incredible looks comes with incredible sound – Amp up the experience of watching movies and listening music with fine audio details and clear vocals; the X9 takes it to a next level when it comes to sound.

Will be available at an amazing price of 39,999 only

Availability

The HTC Desire 628, 630, 830 and HTC One X9 will begin rolling out at retailers and online from 1st September 2016.

About M&P

M&P is one of leading distribution & Services Company in Pakistan. It's a Part of the Getz Group, which is an international marketing and distribution company having presence across 80 locations in 36 countries. Muller & Phipps has a diversified Business Portfolio, covering industries like Pharmaceutical, Hospital Care, Consumer Products and Telecommunication and Handsets Business. M&P entered into Telecom/Mobile Business in 2011 and by now they are one of the most preferred Telecom Distributors in Pakistan. M&P began with a simple mission; help people get what they need, when they need it.

About HTC

HTC Corporation aims to bring brilliance to life. As a global innovator in smart mobile devices and technology, HTC has produced award-winning products and industry firsts since its inception in 1997, including the critically acclaimed HTC One and Desire lines of smartphones. The pursuit of brilliance is at the heart of everything we do, inspiring best-in-class design and game-changing mobile experiences for consumers around the world. HTC is listed on the Taiwan Stock Exchange (TWSE: 2498). For more information please visit www.htc.com/pk