For the Pakistani market, HTC has remained absent for quite some time despite having presence in neighboring markets. We didn't see anything major and new from the brand until now. Apparently, HTC was working on a new line of smartphones directed towards the budget market segment. HTC Desire 628 Dual SIM is part of these newly announced smartphones. It is at a price bracket which is highly competitive and also what majority of Pakistan can afford for a good smartphone. This reason alone puts great expectations on the Desire 628 Dual SIM. Let's see how it differentiates itself from the crowd?
The Desire 628 Dual SIM is a plastic-bodied smartphone with some intriguing color schemes. Although it is all plastic, HTC uses good color combinations to make the device more appealing. The spec sheet isn't long but it sure does include practical hardware. Dual SIM slot and an independent microSD port are some of them. Android 5.1 Lollipop powers it all, Marshmallow to be announced soon.
Right below you can see a detailed list of all the hardware included in HTC Desire 628 Dual SIM.
Desire 628: Technical Specifications
Dimensions 146.9 x 70.9 x 8.1 mm
Weight 142 g
Battery 2200 mAh
Memory 32GB built-in, 3GB RAM, microSD card
Processor 1.3GHz octa-core (64 Bit)
Display Size 5.0 Inches, 720 x 1280 pixels (~294 ppi pixel density)
Display: IPS LCD capacitive touchscreen, 16M colors, Multitouch, HTC Sense 7 UI
Sensors: Accelerometer, proximity
Operating System: Android 5.1 Lollipop
Frequency / Band

SIM 1: 850 / 900 / 1800 / 1900
SIM 2: 850 / 900 / 1800 / 1900
3G Band HSDPA 850 / 900 / 2100
4G Band LTE

Colors Black, White
Camera 13 MP, f/2.0, autofocus, LED flash, Geo-tagging, touch focus, face detection, HDR, panorama, Video 2ndry 5 MP, f/2.8′
Desire 628: Design and Hardware
HTC Desire 628 sports a design that is colorful and stylish.
It is more centered towards the young generation. The plastic body however takes away from the experience. Glass and metal has found its way to the norm but sadly that isn't the case with Desire 628. Nonetheless, the front of the device houses a 5.0 inch 720p IPS LCD screen. Colors are good and text is crisp thanks to the — almost — 300 PPI density. Furthermore, Sense UI
offers
some nice customization options which are otherwise unavailable in competitors.
Our review model came with blue and white color scheme. The front and back was painted white whilst the boundaries and speaker grills were in blue. In my opinion, this color scheme works. Unlike other attempts, the phone blends nicely with the hand and doesn't shout "in your face" all the time. In a sea of black, grey and gold phones, Desire 628 stands out quite decently.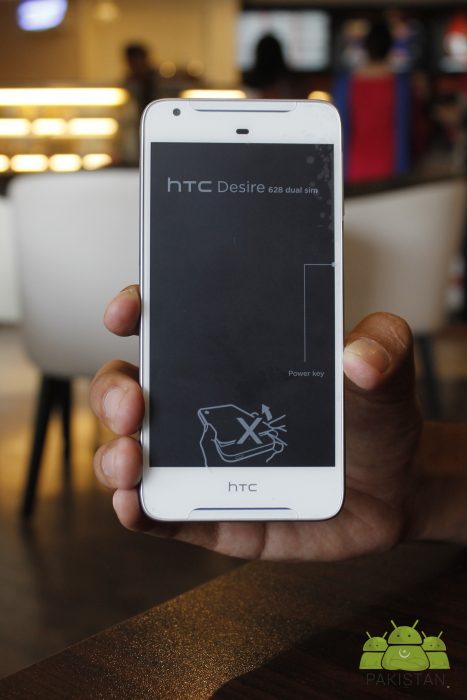 The design is boxed in and there is no removable back-door. Being a plastic phone, I immediately thought it would come with a removable back but it didn't. It is also quite obvious that HTC knew about this and hence included a warning sign on how you shouldn't try to open the back straight on the removable protector with which the phone is shipped. There are slots present on the left side. These slots are protected by a singular cover which needs to be pried out with nails like on Xperia Z flagship phones. Again, it should be noted that you can use the two SIMs and a microSD card all at the same time.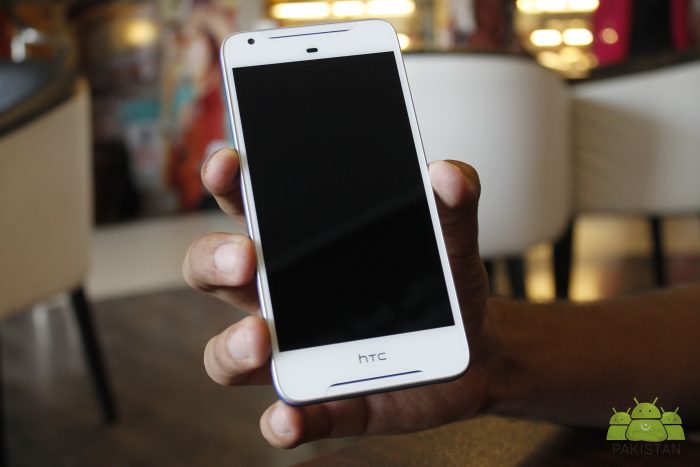 Coming to the processor and memory, Desire 628 ships with 3GB of RAM and a 1.3GHz Octa-Core 64 bit processor. Yes, these specs combined give the Desire 628 an edge. Usually, in this price bracket we see RAM from 1GB to 2GB. Even though there should be noticeable improvement of performance due to the 64 bit architecture, I think, until Marshmallow arrives, that will me remain a marketing-only feature.
The buttons and slots are placed sort of well. Volume buttons and power button on one side whereas the SIM card ports module on the opposite. I often tap the volume buttons rather than the power button. HTC thought that making the power button flush with the body and providing height to volume buttons would address this problem but unfortunately it doesn't. A ridged pattern is what it's missing. On the bottom we find the microUSB slot which is off-centered to right and on the top, 3.5mm audio jack is present.
Placement of speakers do clearly state that it must be a stereo phone but sadly it isn't. HTC used a symmetrical design for the call speaker and normal speaker causing this misconception. Despite HTC being known for audio, the speaker for media has a very low volume and quality isn't great as well. If you connect headphones, it is a different case altogether. The BoomSound equalizer present does work wonders.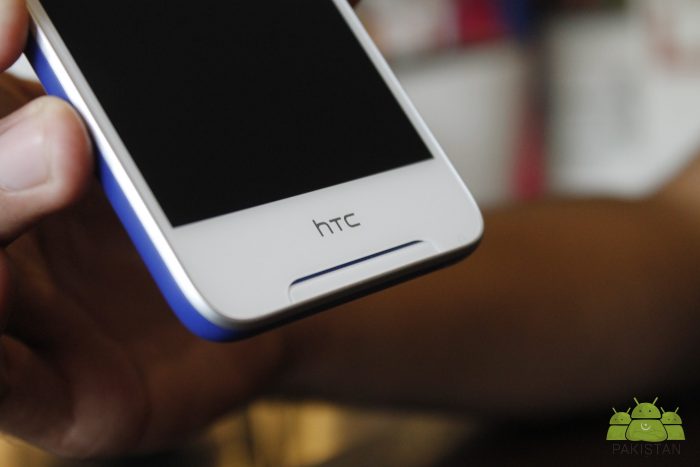 Hardware is limited but it works good in synergy with each other. I didn't notice any major lag while performing heavy tasks. Even when multi-tasking, the 3GB RAM kept the device on par. All in all, HTC did a good job in packing this device together.
Desire 628: Camera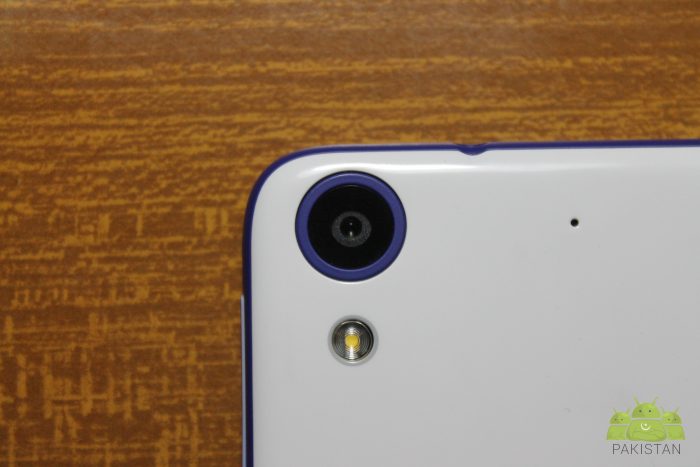 You can record full HD 1080p video with the camera!
The main camera located on the back consists of 13MP with f/2.0 aperture. That sounds good on paper however, in real life scenarios, the camera is just a tad bit above par in its price range.
Low-light is always a problem, whilst competitors use software tricks to adjust dim photos, the HTC overall produces grainy and noisy photos in lightly lit situations. With adequate lighting, you can create good pictures which are sharp and focused. On the front, 5.0 MP camera is there. Not the selfie king but it does the job decently.
Desire 628: Connectivity, Memory and Battery
This department is where the Desire might prove its worth. The standard HTC Desire 628 ships with 32GB space. To top it off, it also includes a microSD card slot. This sort of storage appeals to the user who wants to keep all apps and media straight on the phone's storage. Further, it comes with 3GB RAM. Not 1 or 2 but 3GB. The difference is noticeable and for future-proofing, more RAM is always a good thing.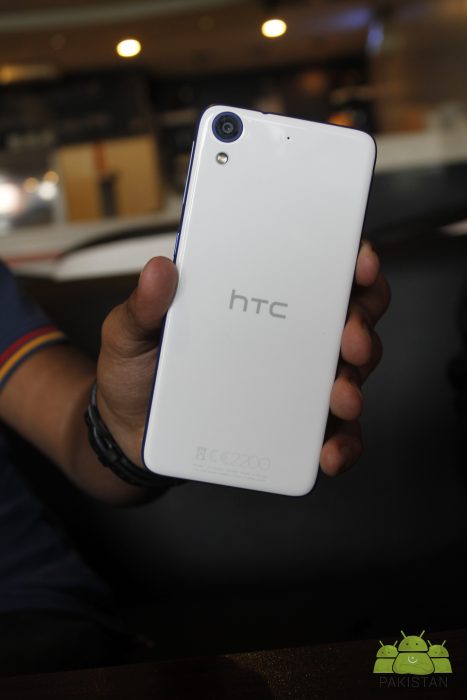 You can run 4G LTE on this phone. Pakistan telecommunication companies report more users adapting to new standards thus serving more in the phone's favor. Users who are looking to upgrade just for the sake of having compatibility with high-speed data will find HTC a good fit.
Coming to the phone's small 2200mAh battery, results are quite obvious. It isn't anything ground-breaking. You would be lucky to get a day out of this phone but for power users, they would have to charge it mid-day. This is due to 5.1 Lollipop which doesn't interact with the octa-core 64 bit processor nicely.
Desire 628: Software
HTC is the pioneer of Android. Coming out with the first Android running smartphone, it sure has some experience in software. However, HTC is shipping the Desire 628 with Android 5.1 Lollipop. At this time, Lollipop is 2 versions behind the latest Android Nougat. We expect major updates coming through soon but at this point, we will judge it on Lollipop.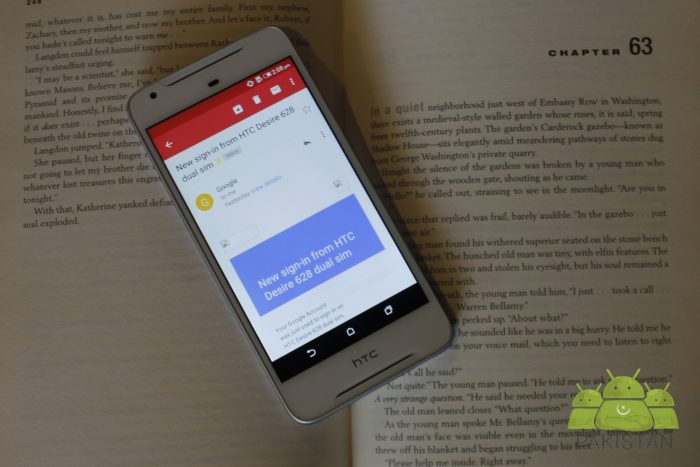 Desire 628 runs Sense 7.0 UI. This skin from HTC is quite refined and offers loads of customization. From themes to the navigation buttons, almost everything can be set up to your liking. Few of the features which will appeal to everyone include a highly customize-able notification pull-down, interactive BlinkFeed, HTC's own widgets and extreme power saving mode. Another reason to get the HTC is the good software support.
Desire 628: Screenshots
Desire 628: Gallery