Ufone has been offering various Android phones since March 2011. They were entry-level Android smartphones, but it served the basic purpose of "mobile computing" for many users who don't want smartphones with a 1GHz or dual-core processor.
They just started their new promotion, in which they are offering freebies with every Ufone Verve or IDEOS purchased. Not sure till when is this offer valid.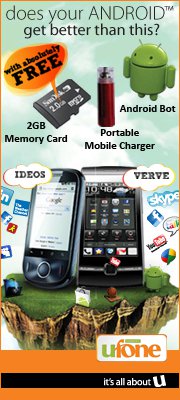 After you buy the Ufone IDEOS or Verve, you will get:
2GB memory card
Android desktop bot (like the one I have, I guess)
Portable charger
Looks like a fair deal when you get all these with those handsets at the same price.
The last Android-related releases were two devices by HTC, HTC Incredible S and the HTC Flyer. I hope they launch more amazing products from a variety of manufacturers. Hint: Tablet?