Samsung Galaxy Grand Prime+ is the latest smartphone in Samsung's budget-friendly lineup. This phone is a successor to Galaxy Grand Prime that was launched back in 2014 and now features better and upgraded specifications, not to mention, overall build quality of the smartphone feels much improved. We have had the phone for a few days now to see how it performs with normal usage and if it justifies the Rs.16,000 price tag this phone comes with.
This phone has been launched just before Samsung unveiled their latest Galaxy A 2017 series which brings several new phones to the mid-range lineup. Getting back to the Galaxy Grand Prime+, before we get started with our review of the phone, let's go through some of its technical specifications.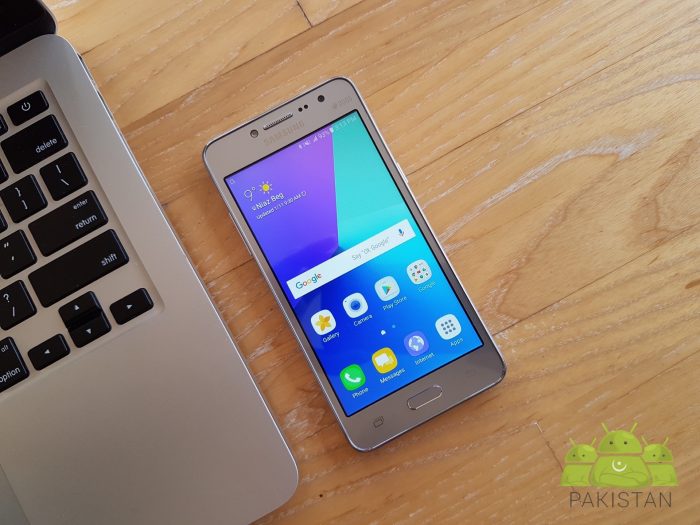 Display:

5.0-inch PLS TFT display

(540 x 960 pixels), proximity sensor
Processor: Mediatek MT6737T 1.4GHz Quadcore CPU, Mali-T720MP2 GPU
Camera: 8 megapixels rear camera with autofocus, geo-tagging, High Dynamic Range mode (HDR) — 5 megapixels front camera
Video: 720p HD video recording
Memory: 1.5GB RAM, 8 GB internal storage, microSD slot (up to 256GB)
Connectivity: Bluetooth 4.2, WiFi, microUSB
Other: A-GPS, 3.5 mm jack, accelerometer, no NFC supported
Battery: 2600 mAh Li-Ion battery
OS: Android 6.0.1 Marshmallow
Pretty decent specifications for an entry-level Android phone, and most importantly, it comes with all the Google apps and Google Play services such as Google Play Store, Google Calendar etc. that makes it no less than other Android phones out there.
The only major difference we notice apart from its predecessor is a slight RAM bump, slightly better CPU and improved camera along with a very minor 0.3mm increase in the thickness.
The Managing Director for Samsung Pakistan – Mr. J.H. Lee said,
We have one of the smartest generations of consumers in the world who use technology not just as a necessity but as a tool to improve their lifestyle and solve pressing issues at hand. It is Samsung's responsibility to ensure that we empower our people with the best, affordable and innovative technology in the world and Grand Prime+ will do just that. We will listen to you and we will innovate based on what we hear from you and we will never stop doing that.
Now let's see if the claim of an innovative device in affordable price actually holds up with the Galaxy Grand Prime+ below.
Galaxy Grand Prime+: Hardware and Design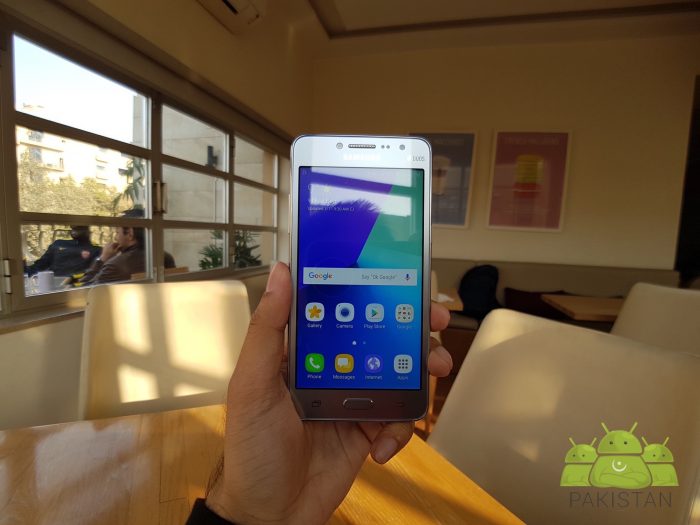 Samsung Galaxy Grand Prime+ has a compact design that fits well in your hand, unlike other large screen phones that are more like a phablet. It comes in three colours: black, gold and silver (we have this one) and weighs just 160g. We love the 5-inch form factor because of its ease of use and how easily you can operate the phone with just one hand.
This phone comes with a 5-inch TFT display screen at 540 x 960 pixels resolution. Galaxy Grand Prime+ has average display viewing angles and there is still some room for improvement in the display to be easily viewable in direct sunlight. However, it features a dedicated button inside the notifications panel to brighten up the screen at maximum when "Outdoors". Screen gets easily smudgy with fingerprints, thanks to the glossy screen. At first, the phone looks like someone from the Galaxy J family, but feels a lot different when you see it from the back side.
Just above the display screen, you can find the earpiece, Samsung logo and the DUOS logo indicating this phone has two SIM slots. And just to clarify, if you want to use a microSD card in your phone (which you would), it will be inserted in the SIM2 slot of the phone. You can also see a front facing flash for those gorgeous selfies and a couple of sensors at the right side of the ear piece along with the camera. The addition of front-facing flash will be loved by many!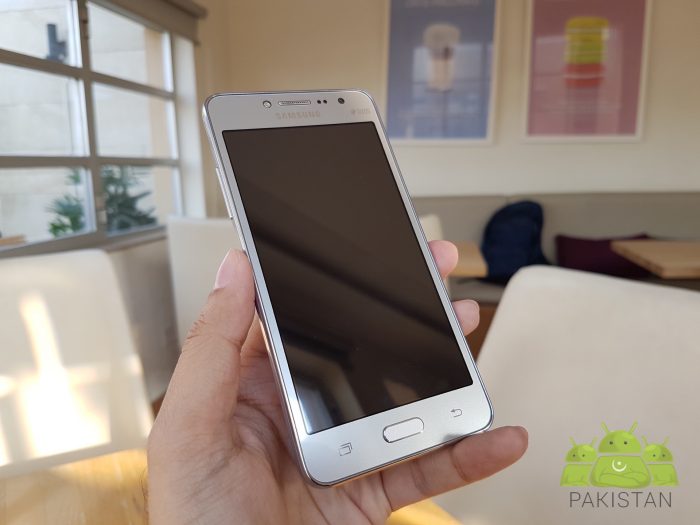 Below the screen, you find the standard Galaxy series buttons: tabs, home and back. The 'Tabs' and 'Back' keys are not back-lit and do not offer any haptic feedback either.
On the left side of the phone, there is a volume rocker. Right side has the power/sleep button. At the top, there is just a 3.5mm audio jack and a microUSB slot at the bottom. Loud speaker is at the back side of the phone, just next to the camera.
The camera software has been greatly improved because of the latest Samsung UX on the phone.
The camera on the Galaxy Grand Prime+ take shots at 8 megapixels and with decent quality and good colours for the price-point this phone is being offered at. You can switch between your front or back cameras with just a swipe up or down on your screen while inside the camera app. Your pictures at 3264×2448 resolution are great for uploading them on Facebook or Instagram. You can also shoot videos at 720p HD quality at 30 FPS on the Samsung Galaxy Grand Prime+.
Here are a few sample shots we took with this phone:
The quadcore processor on the phone makes everything fly without any noticeable lag. Overall internal hardware of this phone is powerful enough to play less graphically intensive games. Plus playing music, browsing the web and with Facebook, Twitter and WhatsApp running in the background — all at once — has no issues or no slow downs with the device. This shows how far Samsung has come with optimizing their customization over Android so that it doesn't slow down the phone.
Galaxy Grand Prime+: Connectivity, Memory, Battery
Galaxy Grand Prime+ offers all the usual connectivity options such as Bluetooth 4.2, WiFi, and standard microUSB 2.0 support. One thing to point out here is the storage option available. You will have to get a microSD card to be able to use the phone properly. Galaxy Grand Prime+ has 8GB storage on-board, but out of the box you only get 4.77GB which is very low. And just after installing apps like Facebook, Instagram and Facebook Messenger, I couldn't even get the latest software update to install on the phone unless we don't start removing these 'essential' apps from my phone. In this case, you just might have to start using Facebook Lite, the smaller version of the main app.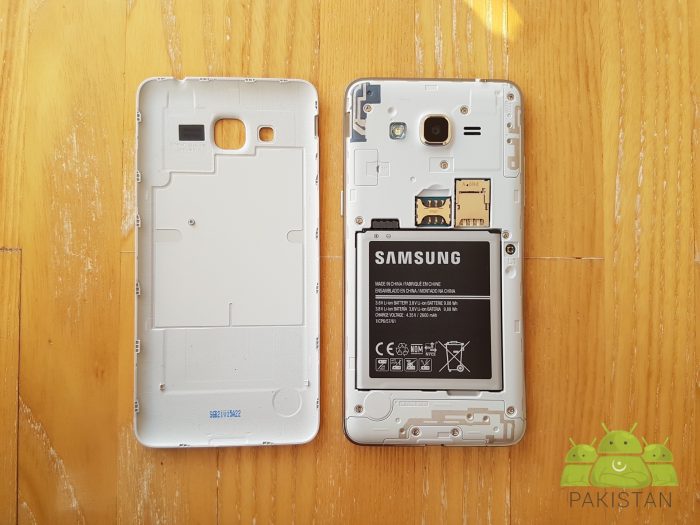 This phone comes with a standard 2600 mAh Li-ion battery and in our heavy usage has given us up to 7-8 hours of battery time. Marshmallow's Doze Mode definitely helps a lot during the time when your phone is not in use.
Galaxy Grand Prime+: Software
Android 6.0.1 Marshmallow is what you get out of the box in this phone. This phone may or may not be supported by future software (Android) updates, yet to be announced by Samsung. Like we mentioned earlier, Samsung's latest UX can be found on top of Marshmallow with some Samsung built apps included as well.
The new experience is similar to what we saw on the Galaxy Note 7. It is much more refined and includes app with the latest UI and features. There is more use of white screens and a revamped Settings panel is a welcome change. Some of the built-in apps that Samsung has included with this phone are:
Galaxy Apps allows you to access Samsung's marketplace of Android apps and games. Promotional apps and offers exclusive to Samsung customers can be found in here.
My Files is the file manager app that is commonly found in every smartphone in the Samsung Galaxy series.
Voice Recorder by Samsung will allow you to make quick voice recordings and save it in your phone memory.
Radio with recording capabilities is another great feature.
Secure Folder allows you to keep private pictures, memos and apps locked away from others who may access your phone.
Samsung Notes is their very own note-taking app where you can create notes by typing or handwriting. Your older S Note or Memo data can also be imported from an older phone.
Conclusion
Galaxy Grand Prime+ is an excellent smartphone if you are looking for something in between the Rs.14,000 and Rs.18,000 bracket. For students who are always on a budget, this phone offers all the necessary features of a smartphone — powerful processor, good battery life and a decent camera — while having a very reasonable price tag.
Galaxy Grand Prime+: Gallery