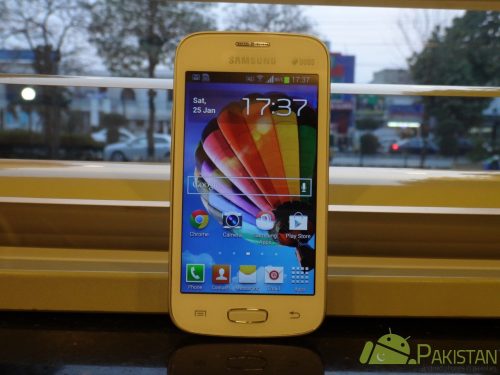 Samsung Galaxy Star Pro is one of the entry-level offerings by Samsung and is one of the cheapest options for a good Android phone available at just Rs.12,900. Why? This is what we will be telling you in our review of this phone. Samsung Galaxy Star Pro is a successor to the Samsung Galaxy Star which was launched early last year and now comes with an improved features set – larger and better display screen, more internal storage and a slightly better battery life.
We spent a few days using this Android phone and you can find our thoughts about it below.
Technical Specifications
Display: 4.0-inch TFT display (480×800 pixels)
Processor: 1GHz Cortext-A5 CPU
Camera: 2 megapixels camera
Video: standard 320×240 video recording
Memory: 512MB RAM, 4GB internal storage + ROM, supports microSD card up to 32GB
Connectivity: Bluetooth 4.0, WiFi, microUSB
Other: FM radio and recording, 3.5 mm jack, accelerometer, Opera Mini, Document Viewer, Samsung Memo, My Files and much more.
Battery: 15 hours battery time with normal usage, 1500mAh Li-Ion battery
OS: Android 4.1.2 Jelly Bean – Samsung TouchWiz UI
Pretty decent specifications for an entry-level Android phone, and most importantly, it comes with all the Google apps and Google Play services such as Google Play Store, Google Calendar etc. that makes it no less than other Android phones out there.
Design and Hardware
Samsung Galaxy Star Pro has a compact design that fits well in your hand, unlike the phablets. The previous Galaxy Star was too small for people with slightly bigger hands, but with the Galaxy Star Pro you can easily type on the screen using the pre-loaded Samsung keyboard or Google Keyboard which you can download from the Google Play Store.
This phone comes with a 4-inch TFT display screen at 480×800 pixels resolution. Galaxy Star Pro has average display viewing angles and there is still some room for improvement in the display to be easily viewable in direct sunlight. Screen gets easily smudgy with fingerprints, thanks to the glossy screen — same can be said for the overall body of the phone as well. We really like this design of the phone because it looks more like a mid-range device of the Galaxy series, not like the oval-shaped Galaxy Star.
Just above the display screen, you can find the earpiece, Samsung logo and the DUOS logo indicating this phone has two SIM slots. Because of the low price tag of this smartphone, Samsung has not included the proximity sensor or ambient light sensor. What does this mean? Your screen will not turn off when you start talking on the phone, instead it will just go off (into sleep mode). Moreover, your screen brightness will not change automatically. Every time you need to change the brightness level of your screen, you will have to do it manually from Settings > Display > Brightness.
Below the screen, you find the standard Galaxy series buttons: options, home and back. The 'Options' and 'Back' keys are not back-lit and do not offer any haptic feedback either.
Samsung Galaxy Star Pro comes with no front-facing camera, but that is okay with the low-price point this phone is being offered at. Main camera at the back is of 2 megapixels which take photos at 1600×1200 resolution — which is decent enough for a quick Instagram or Facebook upload! Video recording capabilities are included, but at a very low resolution of 320×240.
Power button is at the right side of the phone with volume controls on the left. Both are easily accessible when holding the phone with one hand.
You can find the 3.5mm audio jack at the top of the Samsung Galaxy Star Pro and micro USB slot can be found at the bottom.
Overall internal hardware of this phone is powerful enough to play less graphically intensive games. Plus playing music, browsing the web and with Facebook/Twitter/WhatsApp running in the background — all at once — has no issues or no slow downs with the device. This shows how far Samsung has come with optimizing their customizations over Android so that it doesn't slow down the phone.
Connectivity, Memory and Battery
Galaxy Star Pro offers all the usual connectivity options such as Bluetooth 4.0, WiFi, and standard microUSB 2.0 support. Unfortunately, there is no hardware for GPS. This phone comes with around 4GB of internal storage which we know is not enough for most of us who like to install lots of apps, games and store in lots of music, so Samsung has included a microSD slot which you can use to expand your phone memory up to 32GB with a microSD card.
This phone comes with a standard 1500 mAh Li-ion battery and in our heavy usage has given us up to 7-8 hours of battery time. In our tests, this has been a lot better battery timing among other Android phones in the same range.
Software
Android 4.1.2 Jelly Bean — this is what you get out of the box in this phone. This phone may or may not be supported by future software (Android) updates, yet to be announced by Samsung. Like we mentioned earlier, Samsung's TouchWiz UI can be found on top of Jelly Bean with some Samsung built apps included as well.
Samsung Apps allows you to access Samsung's marketplace of Android apps and games. Promotional apps and offers exclusive to Samsung customers can be found in here.
My Files is the file manager app that is commonly found in every smartphone in the Samsung Galaxy series.
Opera Mini is included with the phone for optimized web browsing when on a mobile Internet. This helps in getting charged less by the network on amount of data you download when web browsing.
FM Radio with recording capabilities is another great feature.
Video Player will search for any video files in your phone and let you play them.
Memo is a notes app by Samsung that syncs with your Google Docs and keeps all your notes synced among all devices you use.
Voice Recorder by Samsung will allow you to make quick voice recordings and save it in your phone memory.
Screenshots
Gallery