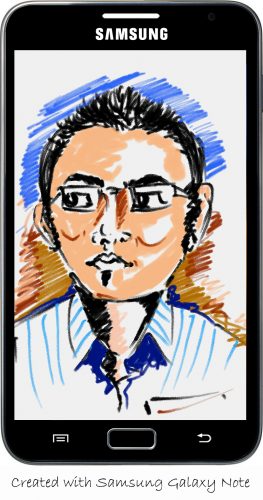 How many of you went to the Samsung Galaxy Note Studio? Well, atleast, we did and got a caricature made of myself on the Samsung Galaxy Note which was also printed on a t-shirt and given to us! And before you ask, yes that's the cartoon-ish me in the image above!
All you Samsung fans can visit the Samsung stall at Mall Of Lahore, get your caricature made and get it printed on a mug, keychain or on a shirt. It starts at 3pm onwards and will go on till tomorrow 8pm (Sunday).
Karachi, you will be getting this soon as well – next week, to be precise. Starting at 30th March till 1st April at Park Towers. Don't forget to check it out!
Oh, one more thing. Samsung Galaxy Note is available for a promotional price of Rs. 62,000 at the Galaxy Note Studio. If you buy it from there, you also enter a draw to win a Samsung Galaxy Tab.
Venue Details
Lahore: Samsung Galaxy Note Studio, 3pm onwards till tomorrow (Sunday) @ Mall Of Lahore.
Karachi: Samsung Galaxy Note Studio, 3pm onwards from 30th March – 1st April @ Park Tower.
If you got your caricature made, do share with us on our Facebook page!
A few photos of the Samsung Galaxy Note Studio: