Samsung Galaxy Note 8 has finally launched in Pakistan and is now on sale nationwide. The initial pre-orders of the started last month and now the Galaxy Note 8 is available on retailers. The launch event was held yesterday at an event in Lahore, at the Lahore Expo Center.
This all new Galaxy Note 8 has a beautiful hardware and top-notch specs. Samsung took the glass-metal combination to a whole different level with the introduction of Infinity Display. This is a big phone, but definitely an improvement over the Galaxy S8 with a much refined form factor and overall design of the phone. This is the best of Samsung for this year!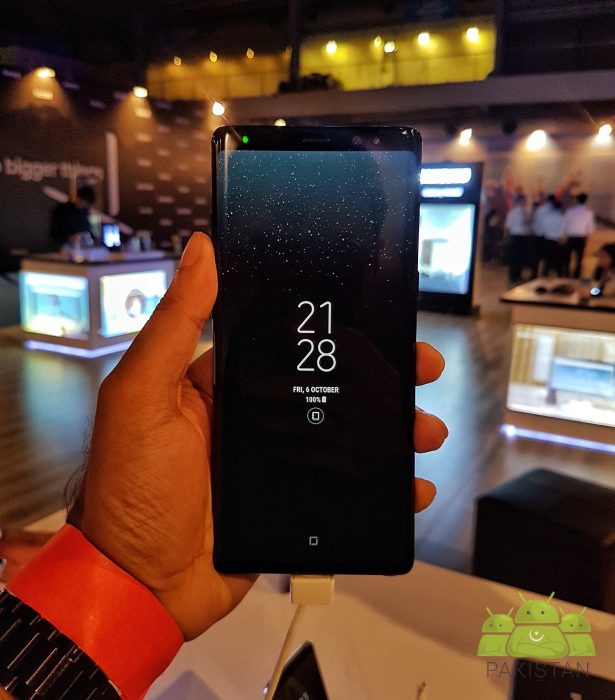 You can read through the official press release here:
Lahore: 7th October, 2017 – The global leader in technology and electronics – Samsung has launched its most advanced Galaxy Note 8 smart-device that features the fascinating S-Pen and numerous other revolutionary technologies, to enrich the lives of tech-savvy consumers. A grand ceremony was held at the Expo Center in Lahore on Friday, 6th of October, 2017, where the President of Samsung Pakistan – Mr. Y.J. Kim was the chief-guest.

This long-awaited smartphone redefines what you can do with a phone and inspires the users to 'Do Bigger Things'. Some of the fascinating features of the Note 8 include; a 6.3-inch Quad HD+ Super AMOLED (Infinity) display, Android 7.1.1 Nougat Operating System, 64GB internal memory (expandable). The device boasts a powerful Dual 12MP camera at the back with OIS and a Wide-angle f/1.7, telephoto lens, along with an 8MP front-camera. All this is powered by a 3300 mAh battery.

The glitzy launch ceremony featured many famous celebrities like; Anwar Maqsood, Maheen Khan (Designer), Zara Peerzada and Arif Mahmood (Photographer), presenting their mesmerizing performances. These artists expressed their delight on experiencing the unique features of Galaxy Note 8.

The President of Samsung Pakistan & Afghanistan Mr. Y. J. Kim stated that: "We are proud to introduce this power-packed device, which promises a whole new world of info-tainment and multi-tasking, with powerful global connectivity, for the consumers aspiring to excel in today's highly competitive and fast-paced world. It empowers and inspires the user to do, what others think they can't do.

The Head of Samsung Mobiles Mr. Umar Ghumman stated that: A phone that defined Big – has just got Bigger, as the design of the Note 8 has evolved with a bigger infinity display. With the power S-Pen technology, this Phablet will surely exceed every customer's expectations, giving them more freedom to express their creativity and share their ideas instantly with their audience around the globe.

This smart-device is priced at Rs. 108,999/- in Pakistan and is available in three attractive colors; Maple Gold, Midnight Black, and Orchid Gray. The pre-booking of this device had already begun from 4th September till 24-September-2017.