Nokia 3 is now officially available in Pakistan, launched by HMD Global in partnership with Jazz and Advance Telecom. The phone was launched as part of HMD Global bringing in their current lineup of Nokia Android phones to the country, starting with Nokia 3 and not-to-forget the Nokia 3310.
This phone is packed with features and offers one of the best smartphone designs for its price. It comes with an 8 megapixels camera, fast processor, Gorilla Glass for added protection and most importantly it is powered by pure Android. You get to experience Android in its purest form on the Nokia 3 because of the stock OS with no modifications at all. Nokia 3 will be the first phone other than Google Pixel phones to run the official release of the Pixel Launcher app.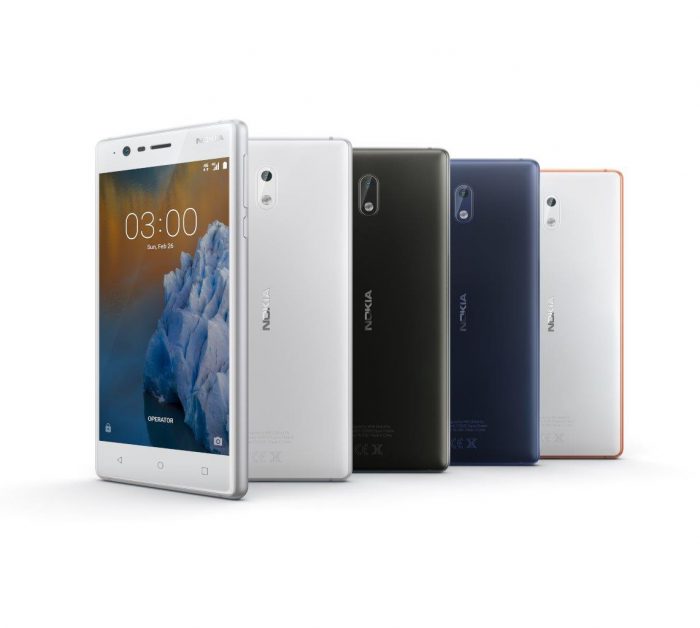 Nokia 3 is available for just Rs. 16,900 with an exclusive offer by Jazz of 1GB internet up to six months and official warranty by Advance Telecom.
For more details, here is the official press release:
Karachi, Pakistan, 19 June, 2017 – HMD Global, the home of Nokia phones, announces the launch of the Nokia 3 in Pakistan  – a stunning new smartphone designed to deliver an outstanding experience with unprecedented value.  With a precision machined aluminium frame forged out of a single piece of aluminium, laminated 5" display with sculpted Corning® Gorilla® Glass and seamlessly integrated 8MP wide aperture cameras (front and back), the Nokia 3 packs a truly premium quality smartphone experience into its compact and elegant form. The Nokia 3 delivers Android™ in its pure form, giving you the ability to use your phone, your way.

Speaking on the occasion, Kamran Khan, Head of Near East, HMD Global said, "We are thrilled to bring an affordable quality smartphone to all consumers in Pakistan with the launch of the Nokia 3."

"Pakistan is an android ready market and with Nokia smartphones, we bring the best of both worlds. The Nokia 3 is ideal for value-conscious consumers who do not want to compromise on design and performance. It combines the hallmarks of a true Nokia phone with a clean pure Android performance and a new level of craftsmanship. We want to reward loyal Nokia phone fans and make a statement that premium design, build, and value for money can go hand-in-hand," he further added.

Superior craftsmanship at an affordable price

The Nokia 3 has looks that will turn heads. With a precision machined aluminium frame, delivering exceptional structural integrity, and polycarbonate back, the Nokia 3's robust design provides protection where it counts. Available in four distinct colours – Silver White, Matte Black and Tempered Blue – the Nokia 3 boasts quality craftsmanship at an unprecedented price.

Exceptional viewing experience

Featuring a fully laminated IPS display with no air gap and sculpted Corning® Gorilla® Glass, the Nokia 3 screen offers durability and superb clarity delivering a viewing experience that is second to none. With fewer reflections thanks to the polarised screen, the experience is crisp and clear offering unbeatable visibility even in bright sunlight.

Capture the moment

"Premium is an experience, not a price point. We've been extremely thoughtful about the overall performance of the Nokia 3, to ensure that a premium high quality experience is fully accessible for everyone," said Juho Sarvikas, Chief Product Officer, HMD Global. "We've thought hard about how the phone will be used, and then crafted a beautiful device to make sure it looks as good as it performs."

Always Pure Android

With the Nokia 3 you will have a pure Android experience for your device. With monthly security updates your Nokia 3 is safe, up-to-date as well as clutter-free – putting choice at the heart of the consumer experience.  And with the latest Android comes the latest features including Doze, which saves battery life while the phone is stored. The new Nokia 3 features Google's most recent innovation, the Google Assistant, building further on a great Android experience. Our teams have worked together to ensure conversations with the Google Assistant happen seamlessly on Nokia smartphones.

The Nokia 3 will be available in Pakistan in partnership with Jazz and will retail at the price of 16,900/-. Along with the warranty of Advance Telecom, customers will also be given 1 GB of free Jazz Internet for up to six months.

[i] Additional terms and conditions may apply.