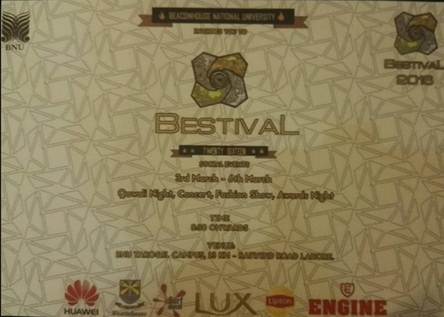 Huawei Pakistan is sponsoring BNU Bestival — a four day event at the Beaconhouse National University (Targoil Campus). This is the fourth consecutive year where BNU is organizing their flagship annual event, Bestival. Among numerous sponsors and partners, Huawei Pakistan is one of the key sponsors at the event featuring the Noori concert on the second day, and a fashion show on the fourth day of the event.
More details can be found at the attached official press release by Huawei Pakistan:
Lahore: 03 March, 2016 : – Recently Huawei has sponsored a four day event named, BNU Bestival, with numerous activities from 3rd to 6th Of March. Its the fourth installment of BNU Bestival and this year it features the theme of Quintessence.The event includes a concert by Nooori on 4th and amongst the competitions five are solely sponsored by Huawei. On the 4th day of the Bsetival a fashion show will be held and two of the participating models will be selected for Huawei's upcoming commercial conditional to their remarkable performance in the show.

Huawei has been equally supportive of the entertainment activities and promotes the opportunities of such event for its customers in Pakistan, especially. Huawei has earned the trust through its commitment to customer satisfaction, highly innovative approach in designing new products and comparatively affordable prices for the products.

During the BNU Bestival 2016 this expression of trust and popularity among the customers will be experienced by the Huawei team and the media, equally. Huawei brand lovers will be delighted to see the Huawei Products- Mate 8 and Honor 5X at the mega event. Huawei expresses its determination to consistently bring innovative products to its customers while contributing its best efforts to promote such exciting and thrilling events like BNU Bestival 2016.

The show is being sponsored by Huawei, and it will be a successful event just like the previous entertainment and fashion events supported by the technology giant.