Last night, Vivo made an official entrance into Pakistan market with the launch of their Vivo V7+ Android phone. The launch event was held at The Faletti's Hotel in Lahore with over 600 attendees. Everyone got a hands-on with the new Vivo V7+ which is now available all over Pakistan and is priced at Rs. 35,999.
V7+ features a powerful Snapdragon 450 processor, 4GB RAM and a 24 megapixels front camera for those awesome selfies. The whole marketing campaign for this phone is designed around its powerful front shooter and its features.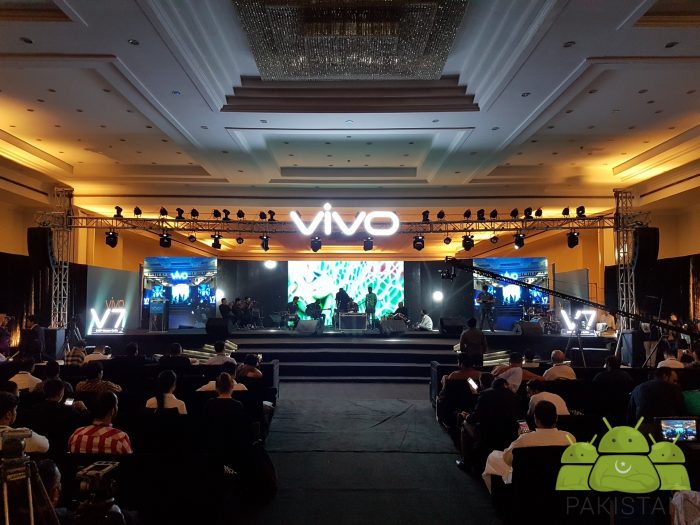 Here is the official press release from Vivo Pakistan with more details:
Lahore, October 04, 2017: The global smartphone leader, Vivo officially launched its brand and the latest flagship smartphone V7+ in Pakistan today. The glamourous launch event was held at the prestigious Faletti's Hotel, where more than 600 people were gathered from all walks of life, including the key opinion leaders of smartphone industry, fashion icons, TV & Film actors, singers, mainstream media, retail and channel partners.

At present, Vivo ranks in world's top 5 & China's top 3 smartphone brands, it operates in multiple international markets including China, India, Indonesia, Thailand, Malaysia, Vietnam, Philippines and Russia with over 80 million sales in the year 2016.

The company has 7 R&D Centers at major locations in China (Dongguan, Shenzhen, Nanjing, Beijing, Hangzhou) and the United States (Silicon Valley and San Diego) with over 2,200 personnel working on the next-gen technologies. Furthermore, Vivo has 4 Production Bases in China (Dongguan & Chongqing), New Delhi (India) and Jakarta (Indonesia).

Vivo has always been devotional in establishing world-class corporate culture & values, providing superior products and unrivalled experience to its customers. The core focus is on the youth as Vivo stands for youthful energy, joy and innovation. In doing so, it has emerged as an innovative smartphone brand, bringing the latest technology and unique experience for its target audience.

It is the official sponsor of FIFA World Cup 2018 in Russia, FIFA World Cup 2022 in Qatar, NBA and IPL Cricket Franchise for 2018-2022. Vivo is also planning to sponsor major sports events in Pakistan as well.

Speaking at the launch of Vivo V7+ smartphone in Pakistan market, Mr. Eric Kong, Chief Executive Officer of Vivo Pakistan said;

"Pakistan is a market with incredible potential. Vivo aims at becoming the industry-leader and a well-known smartphone brand in Pakistan. In 2017, a start-up capital of 30 million USD will be invested in Pakistan Market both online and offline."

It is worth noting that the famous movie star Ranveer Singh is the ambassador of this flagship device V7+, which comes with the world's first 24-Megapixel Selfie Camera Phone and the futuristic FullView™ Display.