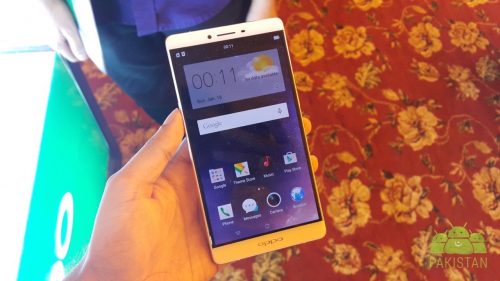 OPPO launched their new R7 Plus, R7 Lite and Mirror 5 at an event held in Lahore, a couple of days back. The new phones are the latest offering from the Chinese manufacturer for the Pakistani market which comes with great specs and a beautiful design. This was the very first event by OPPO in Pakistan. Previously, they have only done a few smaller meetups with bloggers.
The new OPPO R7 Plus features a metallic uni-body with 2.5D curved screen and comes along with VOOC Flash Charge which allows you to make 2-hours phone calls with only 5 minutes of charging time. Other features include an amazing camera, fingerprint scanner etc.
We will soon do a full review of the phones.
Here is the official press release from OPPO Pakistan:
[September 13, 2015, Lahore]: OPPO, the rapidly growing smartphone company with an escalating international presence, held its first ever Pakistan-based launch event in Lahore. The event saw the unveiling of OPPO's three brand new devices, R7 Plus, R7 Lite and Mirror 5.

Through the launch of the three new devices in Pakistan, the brand is committed to bringing the best technology for its consumers. OPPO aims to bring forth the latest technology with a striking edge to it and all the phones boast lightning-fast Qualcomm processors and stylish designs. The Mirror 5 has a solid 8 MP main camera and diamond cut like back cover. Whereas, R7 Series, features a metallic uni-body with 2.5D curved screen. Specifically, R7 Plus comes along with VOOC Flash Charge which allows making 2 hour calls with only 5 minutes charging time, and this technology is the world's Fastest and Safest smartphone charging system, furthermore it is equipped with laser auto focus sensor. While, R7 Lite takes snapshot in just 0.1 sec because of "PDAF" technology. The retail prices of each smartphone are: R7 Plus, Rs 39,990 (World Lowest Price); R7 Lite, Rs 29,990 (World Lowest Price), and Mirror 5, Rs 29,990.

OPPO co-operated with famous fashion designers Munib Nawaz and Shiza Hassan to launch the fashion designs with OPPO latest smartphones. And this was the first time in Pakistan that Fashion Designers applied smartphones elements on the fashion design officially.

The event was a grand affair attended by celebrities and technology enthusiasts alike. OPPO not only introduced the crowd to their latest smart-phones but received awe-inspiring response from mobile phone dealers who had come from various cities of the country specially to attend the event. Spectacular 3D and holographic projection was also displayed at the event which was the very First Time happened in any other smartphone launch events in Pakistan.

Speaking on the occasion, Mr Long Gang, CEO of OPPO Pakistan said "It gives me exceeding pleasure to have launched OPPO's new line in Pakistan, the response from the people has been overwhelming and we look forward to investing in the Pakistan Market which has immense opportunities"

Mr. Fakhar Abdullah, Brand Executive Director, OPPO Mobiles said "I feel proud to be a part of OPPO Mobiles. It is exhilarating to see such enthusiasm from the people. The new range of OPPO Mobile phones is equipped with latest technology and is a work of art that is sure to strike the fancy of anyone who wants the perfect blend of aesthetics with technology."

The inception of advanced technology and meticulous design with attention to detail is sure to highlight OPPO's slogan: The Art of Technology.