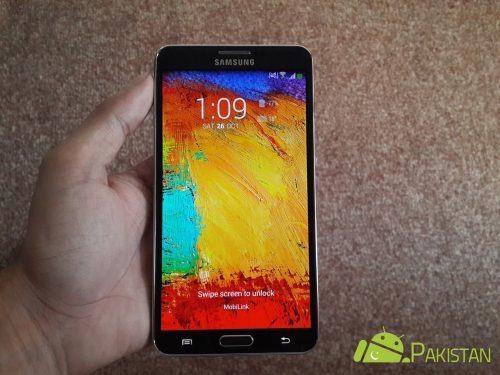 Look what did we get today! An all new Samsung Galaxy Note 3, the latest and the greatest Android device from the Samsung Galaxy Note series. A few weeks back, Galaxy Note 3 was officially announced at a media event in Lahore and has been available in the market since then. We will be reviewing the Samsung Galaxy Note 3 very soon, but before that, let's quickly go through the unboxing photos we took today when opening up the box which looks very much like the box of Samsung Galaxy S4.
Samsung Galaxy Note 3 and Galaxy Gear were officially launched in Pakistan at a media event held at Royal Palm Golf & Country Club yesterday in Lahore. This new Android phone is now available exclusively from Ufone with a bundle offer for Rs. 82,999 and Galaxy Gear costs Rs. 34,999 — both sold as separate items.
Event invitations were sent out yesterday to the media and press for this product launch event. Along with the announcement and unveiling of the Galaxy Note 3 with Galaxy Gear from Samsung and Ufone, this event included a couple of product presentations, live demo of a few features from both the devices and an experience zone where everyone could get their hands on experience of the devices.